Weed-eating goats might return to graze in Edmonton parks
Breadcrumb Trail links
Local News
Publishing date:
Sep 02, 2022 • September 2, 2022 • 2 minutes read 5 comments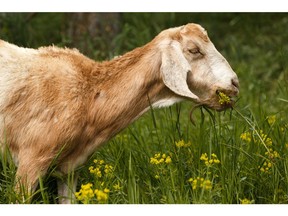 A goat with Baah'd Plant Management browses on leafy spurge in Rundle Park in Edmonton on June 12, 2019. The goats, part of a three-year pilot project, are trained in targeted browsing to eat noxious weeks among other plants. Photo by Ian Kucerak /Postmedia, file
Article content
Herds of weed-devouring goats may descend on Edmonton parks once again as the city looks at novel ways to keep weeds at bay.
Advertisement 2
This advertisement has not been loaded yet, but your article continues below.
Article content
Councilors asked city staff this week to put together a plan for the upcoming budget cycle for using goats or "other grazing animals" on city property. Ward Papastew Coun. Michael Janz said the idea came when the council was considering a possible pesticide ban and pointed out that Fort Saskatchewan uses flocks of sheep.
By clicking on the sign up button you consent to receive the above newsletter from Postmedia Network Inc. You may unsubscribe any time by clicking on the unsubscribe link at the bottom of our emails. Postmedia Network Inc | 365 Bloor Street East, Toronto, Ontario, M4W 3L4 | 416-383-2300
Thanks for signing up!
Article content
"Especially for visitors, young people, kids, they're immensely popular," he said during Monday's council meeting. "Kids will be flocking to see the kids."
Janz said council will be dealing with a tough budget in this case but the program could be educational for children, and he wants to see a breakdown of how much it could cost.
"Almost 15 per cent of Edmontonians are under the age of 14, and when you think about educational opportunities and chances to learn about nature and to get out into the river valley, and the calming, hypnotic influence of animals that can take the most anxious of us and help us appreciate nature and learn more, I think there are huge benefits here to the region," he said.
Advertisement 3
This advertisement has not been loaded yet, but your article continues below.
Article content
Edmonton's previous "GoatWorks" pilot used around 400 goats to manage noxious weed infestations in Rundle Park from 2017 to 2019. The program ended and didn't resume amid the COVID-19 pandemic.
The city's website said the herd was trained to target specific weed species like leafy spurge, Canada thistle, and toadflax, which is especially helpful in ecologically sensitive areas that could make spraying herbicides impractical or inappropriate.
Root of some weed growth unclear
But an independent review of the GoatWorks pilot prepared by University of Alberta master's of kinesiology student Julie Ostrem with mentor Qiting Chen of the city's pest management section found goats could make some weeds spread even more although the results were inconclusive.
Advertisement 4
This advertisement has not been loaded yet, but your article continues below.
Article content
Overall, the review found the number of weeds went up but grass species declined. Leafy spurge was an exception — these declined after goats passed through. Canada thistle, however, increased.
The scholar's review also didn't have a control site so it's impossible to say how climate and temperature patterns affected the outcomes, there was also a grass fire in 2021 that affected the results, and more research is needed, the report states.
The report, hosted on the City of Edmonton's GoatWorks site, states it doesn't reflect the views of the city, its staff, or the contractor.
Goats help reduce fire risk by helping get rid of dry materials at the bases of trees and reduce weeds from spreading by getting the animals to eat the weeds before they seed, according to the city's website.
@laurby
Editor's note: This story has been updated to clarify that the review of the GoatWorks pilot was independent of the City of Edmonton and the report's findings.
Share this article on your social network
Advertisement 1
This advertisement has not been loaded yet, but your article continues below.
Comments
Postmedia is committed to maintaining a lively but civil forum for discussion and encouraging all readers to share their views on our articles. Comments may take up to an hour for moderation before appearing on the site. We ask you to keep your comments relevant and respectful. We have enabled email notifications—you will now receive an email if you receive a reply to your comment, there is an update to a comment thread you follow or if a user you follow comments. Visit our Community Guidelines for more information and details on how to adjust your email settings.