Three to eat: Vegetarians rejoice, Style of Edmonton choices are a-plenty
Breadcrumb Trail links
foods
A good vegetarian dish isn't just meatless, it includes plant-based protein — no one can live off desserts alone.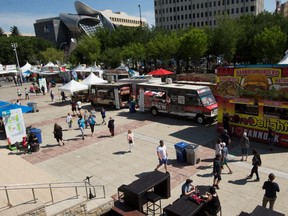 Edmontonians take in the Taste of Edmonton in Sir Winston Churchill Square, Friday July 23, 2021. Photo by David Bloom Photo by David Bloom /Postmedia
Reviews and recommendations are unbiased and products are independently selected. Postmedia may earn an affiliate commission from purchases made through links on this page.
Article content
Festival fare is often heavy on the meat, especially in Alberta. But there are a surprising number of vegetarian options on the Taste of Edmonton menu. In fact, almost all of the 52 participating restaurants had a vegetarian option, and many weren't even dessert.
Article content
The fresh factor is a big one with vegetarian food. Vegetables that have lost their integrity due to overcooking or not cooking soon enough will turn anyone off. And a good vegetarian dish isn't just meatless, it includes plant-based protein — no one can live off desserts alone. One of the most common complaints with vegetarian dishes is the lack of creativity so I scouted some of the more unusual-sounding offerings and was not disappointed.
1. Saikoro Vegetables, Japanese Village (3 tickets, Booth 10)
This Japanese salad was totally unique. Everything was cubed into perfect morsels so a good mix was enjoyed in every bite. The meaty edamame beans were balanced by crisp cucumber and carrot, corn added a sweetness complimenting the citrusy dressing. Finally, cheddar cheese is crumbled on top, easily left off for a vegan dish. Far and away my favorite of the three dishes, and the healthy portion would make a nice, light meal on it's own.
Article content
2. Fried Mozza Cheese with Spicy Mint Jelly, Fargos Capilano (3 tickets, Booth 41)
Veganism would be a much easier option if cheese wasn't an option. Fry it up, and it's almost universally enjoyed. Fargos' take is an improvement on the standard mozza stick. First, it's a healthy, oblong wedge, meaning less breading and more cheese. And it's a lighter breading, so more like a coating than a second, grease-sopping layer. But the icing on top — jelly, in this case — is the condiment. Far more interesting than the ubiquitous sweet chili sauce, this one's made of mint jelly with chilli flakes giving it just the right kick. The only thing missing was some really melty, gooey goodness, likely due to the time between it being served and finding a table to consume it.
3. Tostada de Birria, Pi Kanté (3 tickets, Booth 12)
The 'entrees' here are misleading — labeled vegetarian online, they're simply meat dishes without the meat, if requested. Refried beans were used as a protein replacement — one of my favorite options — but the serving was so scanned, I had to look twice to be convinced it was there. By fork or by bite, the crispy tostada shatters into shards, but the winning move was the fresh lettuce and cilantro leaves on top dressed with a lovely, hot salsa.