Three to Eat: some very candy balls on a plate are at Style of Edmonton
Breadcrumb Trail links
Local food reviews
foods
festivals
Warning: after eating a Winston's Oreo in the heat I immediately needed to down about a liter of water, but this actually made me appreciate the flavor of the completely insane thing I just ate for a paycheque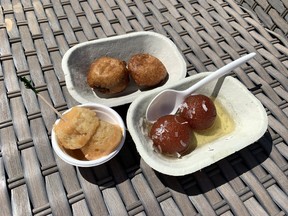 Latte Bites, left, Winston's Oreo and Hot Gulab Jamun are some of the sweet things you can pop into your mouth at Taste fo Edmonton. Photo by Fish Griwkowsky /Postmedia
Reviews and recommendations are unbiased and products are independently selected. Postmedia may earn an affiliate commission from purchases made through links on this page.
Article content
There's something nice and experientially self-contained about popping a little, single-bite sphere of sweetness into your mouth, and Taste of Edmonton is rife with these in our city of the beloved Talus Dome. I knew I had an easy ringer in here with the syrupy Khazana confectionery, but went wandering a bit to mix it up to find some perfect, dessert-island picks.
Advertisement 2
This advertisement has not been loaded yet, but your article continues below.
Article content
1. Latte Bittes with Espresso Caramel Sauce at Diavola Pizza (Booth 19, 2 tickets): My surprise favorite is this light little pair of caramel-soaked cinnamon cake balls, proving the lighter (shade, weight, etc.) the better on a scorching summer day. Bonus points for the tiny packaging — handy when you're carrying around a few dishes at once for the social media photo.
2. Hot Gulab Jamun at Khazana (Booth 3, 2 tickets): No matter how much I want to wolf down at the buffet at Khazana (which means "treasure"), belly room is always saved for some Mango Cream and at least a few Gulab Jamun balls, basically syrup-soaked milk dumplings — on the midway here served sprinkled with coconut. Another item on the Khazana menu, a cold Mango Lassi (also two tickets) serves to balance out the temperature.
Advertisement 3
This advertisement has not been loaded yet, but your article continues below.
Article content
3. Winston's Oreo (Truck E, 3 tickets): Now that we're deep-frying everything on Earth including the planet itself, the idea of ​​boiling two Oreos in better is hardly a surprise — though I was skeptical of the texture before engaging . Turns out the entirety of an Oreo just melts into strangely pleasing, soft, chewy custard at a certain point, and let's face it, no one who is buying this is here on the Paleo Diet. Warning: after eating this in the heat I immediately needed to down about a liter of water, but this actually made me appreciate the flavor of the completely insane thing I just ate for a paycheque.
— Fish Griwkowsky
@fisheyephoto
Share this article on your social network
Advertisement 1
This advertisement has not been loaded yet, but your article continues below.
By clicking on the sign up button you consent to receive the above newsletter from Postmedia Network Inc. You may unsubscribe any time by clicking on the unsubscribe link at the bottom of our emails. Postmedia Network Inc | 365 Bloor Street East, Toronto, Ontario, M4W 3L4 | 416-383-2300
Thanks for signing up!
Comments
Postmedia is committed to maintaining a lively but civil forum for discussion and encouraging all readers to share their views on our articles. Comments may take up to an hour for moderation before appearing on the site. We ask you to keep your comments relevant and respectful. We have enabled email notifications—you will now receive an email if you receive a reply to your comment, there is an update to a comment thread you follow or if a user you follow comments. Visit our Community Guidelines for more information and details on how to adjust your email settings.