Three causes Ken Holland is perhaps reluctant to vary up Edmonton Oilers' left defence
Breadcrumb Trail links
Cult of hockey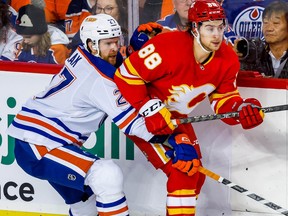 Edmonton Oilers Brett Kulak battles against Andrew Mangiapane of the Calgary Flames during NHL hockey at the Scotiabank Saddledome in Calgary on Tuesday, December 27, 2022. AL CHAREST/POSTMEDIA Al Charest/Postmedia
Article content
Don't shoot me, I'm only the messenger.
Advertisement 2
This advertisement has not been loaded yet, but your article continues below.
REGISTER TO UNLOCK MORE ARTICLES
Create an account or sign in to continue with your reading experience.
Access articles from across Canada with one account
Share your thoughts and join the conversation in the comments
Enjoy additional articles per month
Get email updates from your favorite authors
Article content
The premise of this post has nothing at all to do with what I think the Edmonton Oilers "should" do, and why and how they should do it. To be frank, I'm much more interested in Ken Holland's opinion than I am my own. It is, after all, Mr Holland who has the keys to the vehicle at this point in time. Which direction he might care to point it is ultimately up to him.
By clicking on the sign up button you consent to receive the above newsletter from Postmedia Network Inc. You may unsubscribe any time by clicking on the unsubscribe link at the bottom of our emails or any newsletter. Postmedia Network Inc | 365 Bloor Street East, Toronto, Ontario, M4W 3L4 | 416-383-2300
Thanks for signing up!
Article content
Meanwhile out in Oil Country, there's this ongoing hubbub with gusts of hue and cry about how Holland needs to fix the Oilers at left defence. All sorts of fun and/or famous names have come to the fore, from the ubiquitous Jakob Chychrun to Mattias Ekholm, and from Jake McCabe to Shayne "The Ghost" Gostisbehere. And that's just the Central Division!
My question in response to all such suggestions is, "OK, so who goes?"
Advertisement 3
This advertisement has not been loaded yet, but your article continues below.
Article content
And this is where I hit a roadblock. As his left side D has finally crystallized in the opening weeks of 2023, there's every chance Holland likes what he sees. He does tend towards optimism after all, and there are quite a few positive arrows in there. Let's work our way through the group.
#1LD — Darnell Nurse, age 27, 527 NHL GP
In 2020 and 2021, Holland signed the big blueliner to a pair of contracts totaling 10 years and $85 million. At this point in time Nurse is in the first year of his heart-of-career contract, an 8-year commitment from both players and team at the high-end cap hit of $9.25 million. At face value I don't see the GM wanting to move on from that any time soon, nor would such a move be easily accomplished among the deadly shoals of the trade market during the salary cap era.
Advertisement 4
This advertisement has not been loaded yet, but your article continues below.
Article content
While there is no shortage of critics of the player and his performance, surely the calls that "he's not a #1 defender" can be put in the rear view at some point. He ranks in the top 20 in the league in such stats as Time on Ice, TOI/GP, and EV TOI/GP. He's #1 with a bullet among Oilers in all 3 of those categories, fully 3½ minutes per game more than partner Cody Ceci with a wider gap to the rest. He's second in team scoring behind powerplay whiz Tyson Barriebut is #1 in even-strength goals and assists, and appears set to lead the d-corps in even-strength points for the fifth time in the last 6 years.
Nurse also leads the blueline, and by wide margins, in such disparate categories as plus/minus, penalty minutes, shots on goal at one end and shots blocked at the other. At 5v5, he and partner Ceci play by far the toughest competition of any Oilers D pair, with Nurse ranking third in the entire NHL in raw minutes vs. Elites. Overall he's been holding his own around 50% in the various shot metrics against all competition, and better than that in "smart Corsi" numbers like Natural Stat Trick's Expected Goals (52%) and PuckIQ's Danger Fenwick (53%), both of which are reflected in his 53% share of actual goals (46 for, 41 against).
Advertisement 5
This advertisement has not been loaded yet, but your article continues below.
Article content
Darnell may not be the top defensemen in the NHL, but guess what, the Oilers probably aren't getting that guy. Is the the #1 man in Edmonton? yes Yes, hey is.
Can't see Ken Holland trading this player for any number of reasons, the recent 8-year contract commitment being at the top of that list for a multiplicity of reasons, not all of them positive.
#2LD — Brett Kulak, age 29, 384 NHL GP
Once again, let's first consider the investment Holland made in the player. The Oilers obtained Kulak as a rental from Montreal at the deadline last season, at the cost of a second round pick in 2022, a seventh in 2024, and young defenseman William Lagesson going the other way. Kulak provided an instant upgrade over Lagesson, quickly establishing himself as a regular in Edmonton's bottom 4 on the back end. Hey and partner Tyson Barrie were arguably the third pairing but a strong one, significantly outscoring their competition down the stretch and then again during the club's 16-game playoff run.
Advertisement 6
This advertisement has not been loaded yet, but your article continues below.
Article content
Come free agency the Oilers gave the player permission to test the market but before the end of Day One, both sides had circled back to one another to agree on a 4-year, $11 million extension. Not a cheap contract, but a cap hit $500K less than the current #100-paid rearguard in the NHL.
Like Nurse, it's a long-term commitment which is still in its first year of many. Unlike Nurse, at a price tag best considered for a 4-5 role. Indeed, it seems not too different from the 4-year deals awarded to the likes of Andrew Ference, Mark Fayne, Kris Russell, and Ceci over the last decade or so, though cheaper than any of them by $2 to $5 million over the life of the pact.
Come the current season, and the hope was that Kulak (and Barrie) could take an upward step and play second-pairing minutes. In truth they've had some tough moments in that role, not that big of a surprise given Kulak's history as a third-pairing guy in both Calgary and Montreal. Gradually their performance has improved, and at this moment each has a slight outscoring record individually, as do both together as a pairing (17 for, 15 against in 7 hours together at 5v5).
Advertisement 7
This advertisement has not been loaded yet, but your article continues below.
Article content
PuckIQ confirms they have taken on "second toughs" and provided decent shelter for the youngsters further down the depth chart. Kulak has also taken on a regular role on the penalty kill, ranking third among d-men in minutes and the best (perhaps better worded as "least bad") goals-against rate among the regulars on that unit.
Many pundits have pointed at Kulak's position as being the one to upgrade. Still it seems unlikely that Holland would ditch the guy mere months after signing him long-term.
Better plan to upgrade the second pair and move Kulak to 3LD? Maybe so, but then there's:
#3LD — Philip Broberg, age 21, 47 NHL GP
Once again we find a player in whom Holland has invested a lot. Not a new 8-figure contract in Broberg's case, but the very first (and still the highest) selection in the GM's now 4-year draft history in Edmonton. That was followed by a long stretch of patient player development interrupted by injury, in which the payoff is showing signs of being just around the corner.
Advertisement 8
This advertisement has not been loaded yet, but your article continues below.
Article content
Indeed it may have happened already as the rookie has recently been thriving in a third-pairing role alongside fellow youngster Evan Bouchard. His average ice time has surged from 12 minutes through his first 16 games of the season, to 16 per night over the last 8, during which time he has posted by far his best results.
It's true that the player has been sheltered from the toughest of assignments, but equally on point to say he's been crushing it in the opportunities he's gotten. The underlying numbers certainly say like this: 58% Corsi, 59% shots on goal, 61% Danger Fenwick, 62% Expected Goals. All of which suggests that his 62% share of actual goals (18 for, 11 against) is not a fluke but has, in fact, been earned.
We still can't see the top of the mountain from where Broberg stands today, but without question he is trending up playing the so-called "soft" minutes. Might he surpass Kulak and move into the second pairing in the foreseeable future? Aye, in fact he and Bouchard might do so as a pairing some time in the not-too-distant future.
Advertisement 9
This advertisement has not been loaded yet, but your article continues below.
Article content
We're not there yet, but in my opinion it is to Ken Holland's credit that he didn't make a panic trade earlier in the season. Instead, he waited for Broberg to get past a couple of nicks and start to play defense for the Oilers on a nightly basis. Is now the time to be giving up this player in a trade?
Some Oil fans would say yes, let's move heaven and earth for an upgrade in the here and now. But my take is that from Holland's perspective he's invested a lot in Philip Broberg including a fair amount of personal capital. He's taken plenty of heat for not drafting one or another of the several hotshot American forwards (Trevor Zegras, Matt Boldy, Cole Caufield) who were still on the board and who have been making an impact in the NHL during the Broberg waiting period.
advertisement 10
This advertisement has not been loaded yet, but your article continues below.
Article content
But now the kid is finally here and improving fast. Demoting him to the press box or minors to make room for some pricey vet seems counterproductive. Bro is here on an ELC not just for this year but next as well, when he surely projects as a high-value contract. My guess is that his GM, having waited this long, would prefer to keep hanging in there and see how the story ends.
Epilogue — Is that all there is?
Holland's usual style is to make a veteran defenseman his first-stop shopping priority at the trade deadline. But if he's looking to upgrade Edmonton's left side, he's facing something of a conundrum of who might move out among the 3 men in whom he has invested so much, and so recently. I'm not saying it won't happen, just that in each individual case it seems unlikely. Which makes the players themselves the "3 reasons" mentioned in the headline.
None of which precludes the possibility of a deal on the right side, but that's an analysis for another day.
Recently at the Cult of Hockey
STAPLES: Why are Oilers results so different between Skinner & Campbell?
McCURDY: Digging into the Oil's best streak of the year
STAPLES: Evan Bouchard right on schedule
McCURDY: Player grades as Oilers thump Hawks

Follow me on Twitter @BruceMcCurdy
Share this article on your social network
Advertisement 1
This advertisement has not been loaded yet, but your article continues below.
Comments
Postmedia is committed to maintaining a lively but civil forum for discussion and encouraging all readers to share their views on our articles. Comments may take up to an hour for moderation before appearing on the site. We ask you to keep your comments relevant and respectful. We have enabled email notifications—you will now receive an email if you receive a reply to your comment, there is an update to a comment thread you follow or if a user you follow comments. Visit our Community Guidelines for more information and details on how to adjust your email settings.