Sweet chain It'Sugar debuts in Canada with West Edmonton Mall location
Article content
A US chain of candy stores is sinking its sweet tooth in Edmonton as part of a northern expansion beyond the 49th parallel.
Article content
Specialty candy retailer It'Sugar is due to unveil its first Canadian location in West Edmonton Mall. The store will open Aug. 11, across from the Drive race kart track near Galaxyland, a spokesperson told Postmedia in an email.
The 5,000-square-foot store will sell an assortment of confectionery with the goal of bringing "America's favorite chocolate and candy treats to Canada," founder and CEO Jeff Rubin said in a Monday news release.
The mega mall location will feature departments dedicated to brands such as Skittles, Sour Patch Kids, Oreo and Reese's, as well as a dozen stations holding about 250 different kinds of candy including exclusive flavors, the company added.
At its Edmonton location, It'Sugar also promises sugary shows such as a "maple tree lollipop garden" with more than 1,000 suckers, a four-sided column of gumballs, a "gummy bear moose statue" and a tap that pours maple syrup.
Article content
Besides treats, It'Sugar is known for selling licensed candy-brand apparel such as Oreo slippers and cheeky novelty items including sweets packed in cereal boxes boasting "absolutely no nutritional value added."
According to the company's website, Rubin founded It'Sugar in 2006, but a 2017 investment from BBX Capital, a Florida-based holding company, led to an expansion that now includes 92 locations across 26 US states, from New York to California.
In an email statement to Postmedia, Rubin said the chain's largest store is located in American Dream, a retail and entertainment complex in New Jersey owned by Triple Five, the multinational conglomerate behind West Edmonton Mall as well as Mall of America in Minnesota, which also has an It'Sugar store.
As a multi-use, mixed complex, West Edmonton Mall made an ideal location for It'Sugar's Canadian expansion, Rubin added, noting the company has an eye trained east for its next store in the country.
"We are looking to continue our expansion in Canada and targeting the Toronto market next," Rubin said.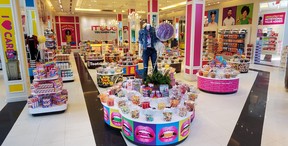 A supplied photo of the It'Sugar pop-up candy store at Union Square in downtown San Francisco, Calif. The chain said it will be opening its first Canadian location in West Edmonton Mall in August. Photo by It'Sugar /supplies
@hamdiissawi