Oregon man accused of abducting, raping Edmonton woman denied bail
Breadcrumb Trail links
Local News
Crime
"He is where he belongs right now," alleged victim's father tells judge. "Noah Madrano is beyond help. This person knows no limits."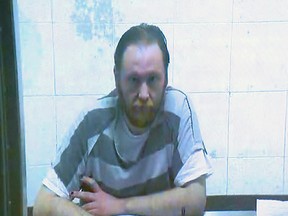 US District Court for the District of Oregon Magistrate Judge Youlee Yim You denied Noah Madrano's request for bail on Nov. 2, 2022, saying there was no combination of conditions that could safeguard the community and ensure his appearance in court. Photo by supplied
Article content
An Oregon podcast host facing life in prison for allegedly kidnapping and raping an Edmonton girl has been denied release pending trial.
Advertisement 2
This advertisement has not been loaded yet, but your article continues below.
Article content
In a scathing decision Wednesday, US District Court for the District of Oregon Magistrate Judge Youlee Yim You denied Noah Madrano's bail request, saying there was no combination of conditions that could safeguard the community and ensure his appearance in court.
By clicking on the sign up button you consent to receive the above newsletter from Postmedia Network Inc. You may unsubscribe any time by clicking on the unsubscribe link at the bottom of our emails. Postmedia Network Inc | 365 Bloor Street East, Toronto, Ontario, M4W 3L4 | 416-383-2300
Thanks for signing up!
Article content
"These are some of the worst allegations I have heard," You told Madrano, who appeared remotely from pre-trial detention.
Madrano was arrested July 2 in an Oregon City hotel room with a 13-year-old girl who had been missing from her Edmonton home for more than a week.
US attorneys allege Madrano groomed and sexually exploited the girl for more than a year before "escalating his conduct" on three separate visits to Canada.
Raft of federal sex charges
Advertisement 3
This advertisement has not been loaded yet, but your article continues below.
Article content
A raft of federal charges revealed Monday — months after Madrano was indicted on Oregon State charges including rape, kidnapping, sexual abuse and using a child in a sex display — allege Madrano abducted the girl from outside her school, took her to a hotel room and disguised her appearance before sexually abusing her for several days.
Prosecutors claim Madrano later returned to Canada and abducted the girl a second time, taking her across the border in the trunk of his car. Madrano is also accused of videotaping the abuse on at least one occasion.
Madrano has pleaded not guilty to the offenses and faces maximum sentences of 75 years and life in prison on the state and federal charges, respectively.
Mira Chernick, Assistant US Attorney for the District of Oregon, is prosecuting the federal case against Madrano. She argued there was no way Madrano could be safely released.
Advertisement 4
This advertisement has not been loaded yet, but your article continues below.
Article content
Chernick shot down claims from defense lawyer Greg Oliveros that the $50,000 in bail posted by Madrano's parents would ensure he appears in court, claiming the 41-year-old's parents were paying for his lifestyle as a community radio podcast host and owner of a company, Power T Productions.
Chernick said that investigators seized child abuse material which include a title card reading "Created by Power T Productions."
She also claimed Madrano recorded child abuse material for his radio show on Portland station KBOO, in which he had "phone sex" with the Edmonton girl while pretending to be a Republican politician. The episode remained live on KBOO's website until after Madrano's arrest.
"This idea that Mr. Madrano respects his parents' money … I think is demonstrably false considering he's already used money from his parents to conduct his child exploitation activities," Chernick said, stressing that there is no evidence Madrano's parents were aware of their son's alleged activities.
Advertisement 5
This advertisement has not been loaded yet, but your article continues below.
Article content
Madrano has 'every incentive' to flee: US Attorney
"He is facing, functionally, life in prison in two separate systems and has every incentive to flee," she added.
Chernick further claimed Madrano attempted to obstruct justice while in custody by asking his father to retrieve a USB drive from his apartment and provide it to his lawyer. The government alleges the drive contained child abuse material but noted the father handed it over to the FBI.
"The idea he's no longer a risk because he's been caught … is demonstrably untrue," Chernick said.
Oliveros suggested Madrano could be subject to 24-7 sight and sound monitoring with limited internet access. He said Madrano has strong ties to the community and a desire to resolve the charges before trial.
Alleged victim's father argues against Madrano's release
The girl's father was among those arguing against release Wednesday. He said the family's "only solace" is that Madrano is in custody.
"He is where he belongs right now," he said. "Noah Madrano is beyond help. He's desperate to be released so he can reoffend. This person knows no limits."
Madrano's is scheduled to start a five-day jury trial Dec. 13. His state trial is set to begin next March 28.
— with files from Hamdi Issawi
twitter.com/jonnywakefield
Share this article on your social network
Advertisement 1
This advertisement has not been loaded yet, but your article continues below.
Comments
Postmedia is committed to maintaining a lively but civil forum for discussion and encouraging all readers to share their views on our articles. Comments may take up to an hour for moderation before appearing on the site. We ask you to keep your comments relevant and respectful. We have enabled email notifications—you will now receive an email if you receive a reply to your comment, there is an update to a comment thread you follow or if a user you follow comments. Visit our Community Guidelines for more information and details on how to adjust your email settings.