On-line farmers' market Cultivatr expands to Edmonton
Breadcrumb Trail links
small business
Local News
Local business
foods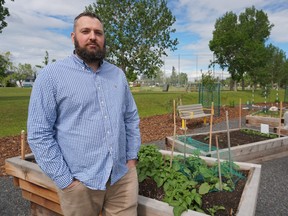 Dan Berezan is the founder of Cultivatr, a Calgary-based business that has created an online farmers' market that recently expanded into Edmonton.
Article content
An Alberta business specializing in local farm-to-table food deliveries has paved a path to fulfilling orders in Edmonton.
Advertisement 2
This advertisement has not been loaded yet, but your article continues below.
Article content
On Wednesday, Calgary-based startup Cultivatr, an online farmers' market connecting Alberta vendors with customers, launched its expansion into Alberta's capital.
While producers and food makers from Edmonton have been on the platform for some time, customers in the city and several surrounding communities now have access to weekly deliveries, founder Dan Berezan said.
"We started to work with Edmonton vendors because some of our Calgary vendors had reached their capacity," he said. "Then we started getting a lot of requests and a lot of interest from people in Edmonton about what we do."
The business originally served communities in and around Calgary after launching at the end of 2019, and soon found mounting interest from customers seeking farm-fresh food deliveries, likely due to restrictions following the COVID-19 pandemic, Berezan added.
Advertisement 3
This advertisement has not been loaded yet, but your article continues below.
Article content
"That sort of forced everyone to search for us, which is great when you're launching, but we've been able to retain most of those customers," he said.
The business works by connecting with and vetting Alberta farmers, ranchers and artisans who set their own prices for food products listed on the platform, Berezan explained. Vendors are required to follow organic, natural and regenerative farming practices that steer clear of chemicals such as pesticides and hormones, he added.
Customers then purchase the product through Cultivatr, which manages the orders on a "just in time" basis.
"If you want to order tomatoes from us, those tomatoes don't actually get picked until you order them," Berezan said. "We communicate with our vendors, they pick them, drop them off with us, and then we bring them to the customer."
Advertisement 4
This advertisement has not been loaded yet, but your article continues below.
Article content
However, meat orders are fulfilled in a slightly different process in the interest of practicality and to curb food waste.
"We work with a producer knowing that they're not going to sell a whole cow instantly," he added. "But we make sure it's butchered properly, vacuum-packed and frozen properly so that you can thaw quickly at home."
Edmonton customers may recognize products from local businesses such as Meuwly's Artisan Food Market as well as El Chorizo ​​Latino. The latter joined the platform about a year ago after visitors from Calgary sought the businesses' homemade Latin-American sausage in their hometown, co-founder John Martin said.
"They were very helpful in allowing us to get our product over there, marketing it, and giving us that reach that otherwise wouldn't have been possible for us logistically at this time," Martin said of Cultivatr.
Advertisement 5
This advertisement has not been loaded yet, but your article continues below.
Article content
More than a vendor, Martin is also a customer, using the platform to source ingredients for his products, such as locally grown garlic, which is "incredibly difficult to find," he said.
"It sort of brings a lot of local producers together," Martin added.
As much as Cultivatr is a food company, Berezan noted, it's also a data-driven tech company that surveys customers to identify popular products, and uses computer systems to predict demand.
"We've actually developed a machine-learning platform that allows us to do some forecasting around how much we're going to need on any given day," he said. "That's the real beauty of our platform: it's not about telling vendors what to grow; it's about telling them how much we need and when."
@hamdiissawi
Share this article on your social network
Advertisement 1
This advertisement has not been loaded yet, but your article continues below.
By clicking on the sign up button you consent to receive the above newsletter from Postmedia Network Inc. You may unsubscribe any time by clicking on the unsubscribe link at the bottom of our emails. Postmedia Network Inc | 365 Bloor Street East, Toronto, Ontario, M4W 3L4 | 416-383-2300
Thanks for signing up!
Comments
Postmedia is committed to maintaining a lively but civil forum for discussion and encouraging all readers to share their views on our articles. Comments may take up to an hour for moderation before appearing on the site. We ask you to keep your comments relevant and respectful. We have enabled email notifications—you will now receive an email if you receive a reply to your comment, there is an update to a comment thread you follow or if a user you follow comments. Visit our Community Guidelines for more information and details on how to adjust your email settings.