Keith Gerein: 5 concepts to assist put Edmonton again on the loopy map
Breadcrumb Trail links
Local News
columnists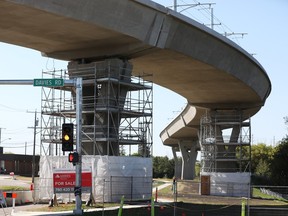 It may be time to pull the plug on the Valley Line LRT, but the asset shouldn't go to waste as it could be transformed into a bike lane. Photo by David Bloom /Postmedia
Article content
In Canadian journalism circles, Edmonton has long had a reputation of being a disproportionately exciting news town.
Advertisement 2
This advertisement has not been loaded yet, but your article continues below.
Article content
When job openings are posted here, I try to convince journalists from other parts of the country to apply by telling them that they will likely get to cover a lot of big, often bizarre news stories.
By clicking on the sign up button you consent to receive the above newsletter from Postmedia Network Inc. You may unsubscribe any time by clicking on the unsubscribe link at the bottom of our emails or any newsletter. Postmedia Network Inc | 365 Bloor Street East, Toronto, Ontario, M4W 3L4 | 416-383-2300
Thanks for signing up!
Article content
Yes, a large part of that is the unrelenting intrigue at our legislature. But we also tend to get more than our fair share of fascinating true crime stories, eccentric personalities and other colorful events.
However, the problem with crazy is that it has to keep upping the ante. And I think you'll agree that the world has turned the knob on the insanity meter to about an 11 the last few years, making it difficult for Edmonton to keep pace.
As such, I present a handful of local news stories I'd love to see happen this year to get our city back in the zany game. There is absolutely no truth to any of these, but they sure would be fun to cover. After all, I think we can do better than giving cute names to our snow plows.
Advertisement 3
This advertisement has not been loaded yet, but your article continues below.
Article content
Co-credit for these ideas goes to my curling buddy Tom Thurston, who is never short of imagination on how to make some absurdity even funnier.
City escapes a pickle of a bill for Coliseum demolition
Just months after approving $35 million to finally demolish the vacant Northlands Coliseum, city council has approved a last ditch plan to give the facility new life by transforming it into a pickle ball palace.
The idea was put forward by a group of local seniors and Edmonton Oilers alumni from the 1980s — now nearly seniors themselves — who note the once fringe sport has so exploded in popularity that the city has a need for a big, central venue.
"We couldn't stomach the site of our glory days meeting the wrecking ball, so we're saving it with pickle ball," said one former player.
Advertisement 4
This advertisement has not been loaded yet, but your article continues below.
Article content
Plans call for the Coliseum to host 24 courts, along with space for a premium paddle shop and on-site knee clinic.
Bick's and Vlasic are said to be competing for naming rights to the new facility.
One transportation controversy deserves another
After more than two years of delays, the city has decided to scrap the Valley Line LRT and turn it into a 13-kilometer bike lane.
While critics have balked at the price tag of $1.8 billion, the city has plans to recoup some of the cost by advertising that fact as a tourism promotion.
A news conference this week featured mockups of t-shirts and water bottles sporting the phrase, "I just cycled the world's most expensive bike lane!"
However, opponents see cracks in the plan, noting that TransEd Partners has been retained as the exclusive supplier of rental bikes, e-bikes and scooters for the project. The consortium has already said it might be delayed in obtaining the necessary equipment.
Advertisement 5
This advertisement has not been loaded yet, but your article continues below.
Article content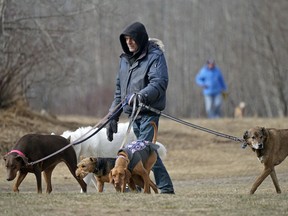 Most cities have dog parks, so why can't Edmonton be the first to have cat parks? Photo by Larry Wong /Postmedia
Edmonton to become 'most feline friendly city'
In an unexpected escalation of the city's diversity and inclusion policies, the council is set to approve a handful of new off-leash cat parks this summer.
Feline owners have been on the warpath for months, upset at all the land and money the city devotes each year to dog parks.
Complimentary litter boxes will be provided on site, and firefighters will be on call for tree rescues. One councilor said she approved the cat parks merely out of curiosity.
"I'm sure nothing bad at all could come from this," she said.
Council warms to radical ideas to tame snow complaints
Frustration with the state of the city's roads this winter has built up to the point that council is considering a major changes.
Advertisement 6
This advertisement has not been loaded yet, but your article continues below.
Article content
Various proposals are on the table, including one to poach the best snow plow operators from Calgary, Winnipeg and Norway. Another calls for an international trade agreement, in which Dubai would be provided snow for its indoor ski resort, while Edmonton would get premium sand for its roads.
A few councilors are said to be pushing for a $100-billion geothermal project to heat all the city's streets and sidewalks.
However, the idea that appears to have the most traction is an LIM program, otherwise known as the tried and true method of Let It Melt.
"No matter what we try it seems to make matters worse, so we should let nature take its course," said a maintenance coordinator.
Proponents say they have science on their side. After all, it's about global warming.
Advertisement 7
This advertisement has not been loaded yet, but your article continues below.
Article content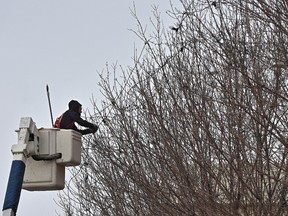 Edmonton has yet to embrace the revenue opportunities from the 300,000 park and boulevard trees it owns. Ed Kaiser/Postmedia Photo by Ed Kaiser /Postmedia
City banks on municipal assets for financial breathing room
Edmonton will become the first city on the planet this summer to charge an oxygen tax.
"The city owns most of the trees that create that oxygen, but we've been getting no revenue from that asset — that has to change," a city manager said.
The scheme is one of several pilot projects underground to help the cash-strapped city boost revenue.
Residents will also soon be able to rent municipal fire trucks for their weddings and parties, despite complaints from limousine services.
In addition, interminably slow progress on redeveloping Blatchford has convinced the city to return the land to its former use as an airport — but just for drones. Amazon has secured the site to test its new drone delivery service around Edmonton, which may have the added benefit of scaring away annoying magpies.
As well, waste services plans to expand its cart system by introducing three new colored bins for pickup — silver for scrap metal, yellow for old cooking oil and purple for any excess paper money people have lying around.
Share this article on your social network
Advertisement 1
This advertisement has not been loaded yet, but your article continues below.
Comments
Postmedia is committed to maintaining a lively but civil forum for discussion and encouraging all readers to share their views on our articles. Comments may take up to an hour for moderation before appearing on the site. We ask you to keep your comments relevant and respectful. We have enabled email notifications—you will now receive an email if you receive a reply to your comment, there is an update to a comment thread you follow or if a user you follow comments. Visit our Community Guidelines for more information and details on how to adjust your email settings.