HonestDoor expands throughout Canada | EdmontonJournal
Breadcrumb Trail links
homes
Find out how much that house down the street sold for — and what your home could be worth.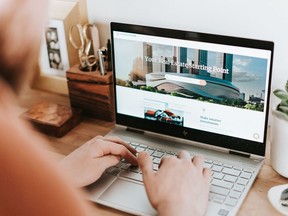 HonestDoor is a company that will tell you what any property in the city is valued at, the assessed price history, provide you with the date and value of previous transactions, annual property taxes for the home in question, the neighborhood growth rate and more, all at no cost to you. Photo by Supplied /Postmedia
Reviews and recommendations are unbiased and products are independently selected. Postmedia may earn an affiliate commission from purchases made through links on this page.
Article content
Honest Door has gone national.
Advertisement 2
This advertisement has not been loaded yet, but your article continues below.
Article content
The Edmonton-based online real estate start-up, which provides free access to residential, and in some cases commercial, property data, just recently launched a cross-Canada expansion in late June, letting interested parties find out what a property is worth.
"While this national expansion positions HonestDoor as the largest publicly available real-estate database for almost every residential property, our vision is to be the most trusted source for free real-estate information in Canada," said Daniel Belostotsky, co-founder and CEO of HonestDoor. "We are working towards achieving this vision by providing regularly updated property values ​​in one seamless experience, and using machine learning along with consumer input to improve our models and increase the accuracy of our HonestDoor Price."
Advertisement 3
This advertisement has not been loaded yet, but your article continues below.
Article content
Each residential property — simply plug in a Canadian address on the HonestDoor website; most residential properties are accessible but others are still being added such as in Quebec, where 80 per cent of the homes are currently listed — to find out the HonestDoor price. That price is an estimate of the property's value based on a proprietary formula using advanced statistical and machine learning methods. It also includes historical information, such as the dates and prices homes have sold for.
But while HonestDoor strives for accuracy, officials note that the value should not be considered as an official appraisal.
"The HonestDoor price is still an estimate," said Belostotsky. "We still think you should see an appraiser."
Advertisement 4
This advertisement has not been loaded yet, but your article continues below.
Article content
As HonestDoor is quickly becoming the go-to resource for businesses and companies who, for example, might check the site in relation to a loan or line of credit application, Belostotsky said it's important for property owners to check out their HonestDoor valuation to ensure it's as accurate as possible.
HonestDoor receives thousands of submissions each month from consumers with updated facts on their properties — there's a submission button on each listing allowing homeowners to send in additional data that HonestDoor may not already have like renovations that increase a property's value but don't require permits, including a new roof or windows, hardwood flooring, painting, or landscaping.
"By enabling users to submit information that may increase the value of their property, HonestDoor now has the most detailed and unique dataset in the Canadian real estate market," said Belostotsky.
Advertisement 5
This advertisement has not been loaded yet, but your article continues below.
Article content
Several Canadian banks and financial services companies are currently using or piloting HonestDoor for their own digital appraisals.
"Other online real-estate platforms only provide estimated values ​​on homes listed for sale, which represents a fraction of the overall property market in Canada. In contrast, HonestDoor provides digital appraisals on practically every home across the country — both listed and off market," said Belostotsky. "We are pleased to be offering this service so that Canadians now have the value of any property at their fingertips."
HonestDoor got its start in Edmonton in 2019 when Belostotsky realized that there wasn't enough real-estate data available directly to consumers and he wondered what would happen if this data was posted online.
"Would anyone actually care?" he asked. "And they cared, so we kept getting more funds from investors and kept expanding the product. It really became widely popular."
The site generates millions of views each month, said Belostotsky, adding that HonestDoor is quite popular in Western Canada and he hopes the new expansion will bring similar interest in the eastern half of the country.
Share this article on your social network
Advertisement 1
This advertisement has not been loaded yet, but your article continues below.
By clicking on the sign up button you consent to receive the above newsletter from Postmedia Network Inc. You may unsubscribe any time by clicking on the unsubscribe link at the bottom of our emails. Postmedia Network Inc | 365 Bloor Street East, Toronto, Ontario, M4W 3L4 | 416-383-2300
Thanks for signing up!
Comments
Postmedia is committed to maintaining a lively but civil forum for discussion and encouraging all readers to share their views on our articles. Comments may take up to an hour for moderation before appearing on the site. We ask you to keep your comments relevant and respectful. We have enabled email notifications—you will now receive an email if you receive a reply to your comment, there is an update to a comment thread you follow or if a user you follow comments. Visit our Community Guidelines for more information and details on how to adjust your email settings.