Exploring Edmonton: Curler's Curler Rink
I'm someone who spends my summers outside with a pair of quad skates glued to my feet, dreading the winter months when my skates are retired to the closet. So when I heard about the opening of Rollers Roller Rink, I was thrilled and immediately ran over — or rolled over — to check it out. Rollers Roller Rink (also known as Rollers) is now the only indoor roller rink in all of Alberta and it's a fun, unique addition to the city of Edmonton.
Edmonton hasn't had a roller rink since 2014 when Sportsworld Roller Disco closed its doors, so indoor skating space has been long-awaited. Thankfully, Rollers has stepped up to respond to an increased demand.
In the early days of the pandemic, people everywhere were looking for new ways to bid their time and roller skating was one hobby that blew up on social media. When I bought my skates in the spring of 2020, it was a struggle to find a good pair as they were flying off store shelves. Maybe the longing for better days is what sparked the frenzy for such a nostalgic hobby, or maybe it's simply the perfect sport to practice individually. During the warmer months, a pair of roller skates can turn the entire neighborhood into a personal gym, after all. Regardless of the cause, roller skating continues to be a high-demand sport and Rollers Roller Rink is here to give the people what they want.
Since opening on December 17, 2021, Rollers provides a fun and friendly indoor environment for roller skating pros and beginners alike. Rink staff Michelle Blouin describes the rink skater community as "welcoming and inclusive."
"If strangers are skating and one of them falls down, everybody will rush to help the person that fell … It's a really good community to be a part of," Blouin explains.
According to their website, Rollers offers open skate sessions for $25 where skaters can jam to their playlist of modern hits and retro classics or purchase snacks from the concession for as long as they'd like. Skating regulars can bring their own skates to skip the $10 rental fee or purchase monthly passes to save money. For those looking to hone their roller skating skills, Rollers offers classes geared towards both beginners and more advanced skaters.
Paige Hanic
On the weekends, Rollers lights up with evening events involving live DJs and photo booths. While the rink closes at 8:00 pm during the week, the weekend skate sessions go until midnight and are 18+ in the evenings. It's like going to the club but with the added fun of wheels on your feet!
For those who'd like to invest in their own skating equipment, Rollers has you covered. Right inside the rink is Toe Stop Derby Shop where you can find any skating gear you might need. They have dance skates, outdoor skates, derby skates, and more, in a wide variety of colors and styles, along with all the skating tools, accessories, and apparel a skater can dream of.
With access to all the skating essentials, Rollers Roller Rink is undoubtedly an oasis for roller skating lovers everywhere. However, the opening of the rink wasn't without certain challenges.
Blouin explains that Rollers Roller Rink was a project "five years in the making" due to a lack of suitable venues. She also explains that the rink is still in its early renovation stages, having only been open a couple of months, so it's not without slight flaws which will be fixed in the future.
"We're getting better all the time," Blouin highlights. "We have more lights coming, the floor is going to be fixed … It's exciting. If you don't like it the first time, come the second time, maybe something will be different … We're open to changes, you know?"
There have also been struggles in finding a venue to host the skating sport of roller derby. According to the rink owner, Claudia Garcia, venues are sometimes afraid of damage to the floors from roller skate wheels, despite Garcia providing "documentation from wheel companies" that skates are safe for floors.
Garcia is hopeful that Rollers Roller Rink can provide a space for roller derby in the future.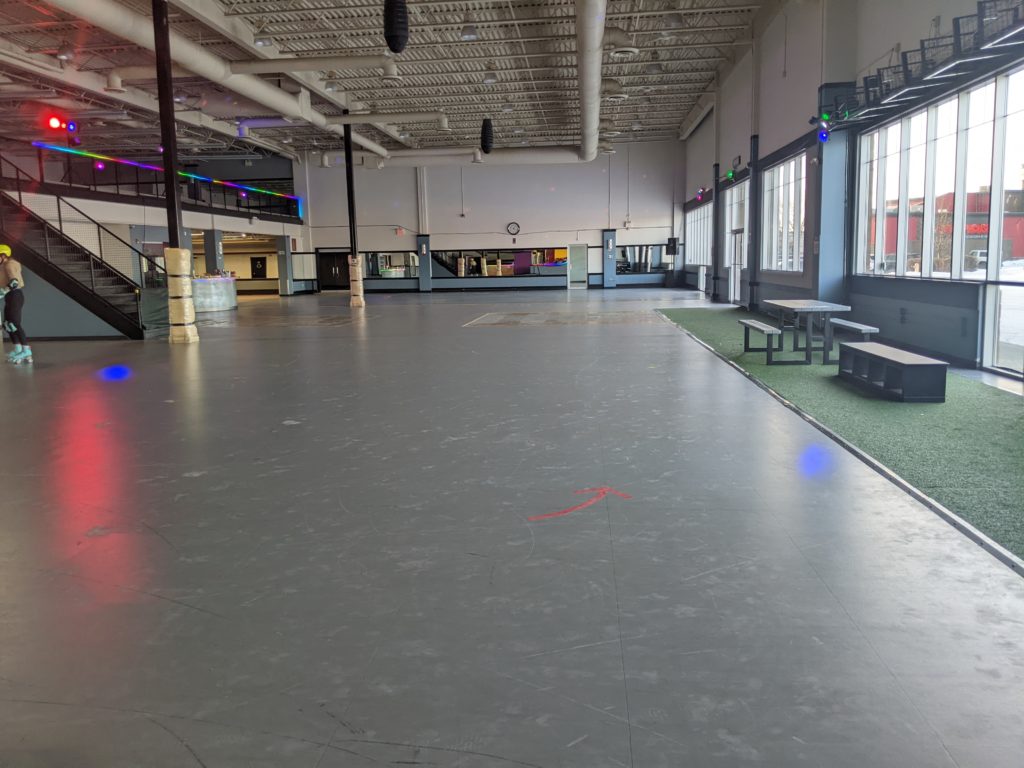 Paige Hanic
Despite battling some barriers to finding the perfect roller skating space, Rollers Roller Rink looks on the positive side.
"[I love] the fact that I get to skate every day," Blouin says. "That's the literal best thing. Like, I get to skate every day. I get to meet a whole bunch of new people that share a passion for something that I'm passionate about."
Overall, Rollers Roller Rink has a lot to offer with a great team of staff and exciting developments planned for the future. It's the perfect place for anyone looking for something unique and fun to try in the city. Even if you've never skated before, the staff at the rink strongly recommend giving it a try.
"Come to Rollers and put on some skates," Blouin encourages.
"I think if someone wants to try it, they should definitely give it a go. It's going to be a little bit difficult first starting out, but once you get the hang of it, it stays with you all your life. It's like riding a bike."