Edmonton's Findlay again for PTO Canadian Open
Breadcrumb Trail links
Other Sports
Findlay will headline the women's race on Saturday in the first event of the PTO Tour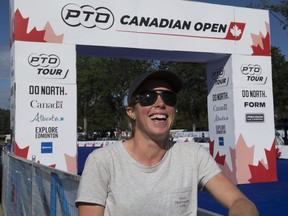 Paula Findlay jokes with a friend at the finish line of the PTO Canadian Open, following a news conference in Edmonton on July 22, 2022. Photo by David Bloom /Postmedia Network
Article content
Paula Findlay is healthy, fit, and looking forward to racing in Edmonton again for the first time in seven years.
Advertisement 2
This advertisement has not been loaded yet, but your article continues below.
Article content
The local product is expected to be among the contenders at the inaugural Professional Triathletes Organization Canadian Open, taking place at Hawrelak Park this weekend.
Findlay, 33, will headline the women's race on Saturday (10:45 am) in the first event of the PTO Tour, which is offering up $1-million in prize money for the 100-kilometre race (2 km swim, 80 km bike , 18km run). The men's event takes place on Sunday (12:45 pm).
Article content
"I think seven years ago, I wasn't coming in here as a favorite and I was racing coming off some injuries and my typical up-and-down injury cycle," Findlay said Friday. "This time, I'm coming into this race with a lot more success recently, so there is a bit more of a target on my back.
"This distance really suits me and it's like the second phase of my career; it's a different feeling. I definitely am nervous racing with people you know watching you, it just brings that elevated pressure of not wanting to disappoint people. But I've been doing this level of sport for almost 20 years, so I do have a lot of experience with pressure, and to me, pressure is a good thing, because it means you're doing well and people expect you to do well, it's a privilege to be in this position."
Advertisement 3
This advertisement has not been loaded yet, but your article continues below.
Article content
Canadians have been watching Findlay since she burst on the professional triathlon scene over a decade ago, winning world championship races in London and Kitzbuhel in 2010, then Sydney, Madrid and Kitzbuhel in 2011. She was the top-ranked female triathlete in the world and was considered a gold-medal contender heading towards the 2012 London Olympics before being derailed by injury.
Findlay battled back from a disappointing race in London, and through a number of career-threatening injuries to compete in the 2015 ITU event in Edmonton. She went on to win the 2018 Ironman North American Championship, the 2019 Ironman at Indian Wells, the 2019 Challenge Daytona and the 2020 Challenge Daytona, before the COVID-19 pandemic shut down the tour.
Advertisement 4
This advertisement has not been loaded yet, but your article continues below.
Article content
"I raced the national time trial championships a month ago and it definitely set me up well for this," Findlay said. "It was significantly shorter to do that race, but the nature of this course; there is a lot of high power (cycling), a lot of hills and just the up and down and spiky way you race in an ITU race, so it gave me confidence."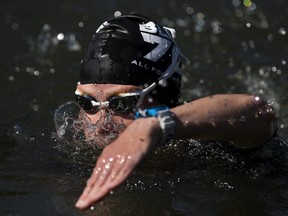 Paula Findlay takes part in swim practice at Edmonton's Hawrelak Park on July 22, 2022, in preparation for the PTO Canadian Open. Photo by David Bloom /Postmedia Network
Findlay is in a better place physically, mentally, and emotionally than she has been in some time. The injuries leading into and after the Olympics took their toll, and she contemplated retiring from the sport altogether.
"For sure, there were times that I thought, 'I need to stop this,' and I came back to finish my degree at the U of A in 2017," Findlay said. "I knew I always had a backup plan of an undergraduate degree, at least, under my belt to go to med school or go into physio or do something else that was interesting.
Advertisement 5
This advertisement has not been loaded yet, but your article continues below.
Article content
"But I've never really lost the fire and desire to be good at this sport and seeing other athletes excel at it and make a living at it, and just do it for their job has inspired me to just give it another shot. I've never given up on myself believing I can be the athlete that I was in 2010, in 2011 and it's paid off, because I think I'm racing really well and now the PTO has all this prize money and it's a feasible career and that's really cool."
The PTO tour is attracting some of the best triathletes in the world with the prize money offered. The winner of both the men's and women's races each earn $100,000. It's the same Findlay earned winning the 2020 event in Daytona, which proved to be the biggest pay day of her career.
Findlay credits her team and partner Eric Lagerstrom, who is also a professional triathlete, for keeping her in the sport and helping get her back to the top.
Advertisement 6
This advertisement has not been loaded yet, but your article continues below.
Article content
"We try to keep it fun and we've started a little business; we have a YouTube channel and there have been a lot of other little outlets that are a bit of an escape from the daily grind," she said. "And having the support and happiness and being settled in a place now — we have a dog and a house — and it's created this sense of grounding and we can focus on being healthy and training well and not stressing.
"The lower the stress, the higher the happiness, the faster you race and that's the position I found myself in the last couple of years."
Success at a young age put a lot of pressure on Findlay to perform, and she had to deal with the stress of injuries. Yet, she has taken over as the face of Canadian triathlon and relishes being a role model, inspiring the next generation of competitors.
Advertisement 7
This advertisement has not been loaded yet, but your article continues below.
Article content
"Being a role model means more to me than any result," she said. "I can relate a little bit in that I looked up to Simon Whitfield and he's the reason I got into this sport and was motivated to be an Olympian and have success.
"So to be in that position is really, really cool to me. Both Eric and I — not just kids, but anyone — that we can inspire to get into this sport and be active and take up a healthy lifestyle is really the biggest reason I do this and it feels like there is a bigger meaning to it. Instead of selfishly training every day and trying to win a race, it's reaching out to the community, getting people to do this and that is the most special thing about it for sure."
Email: [email protected]
On Twitter: @DerekVanDiest
Share this article on your social network
Advertisement 1
This advertisement has not been loaded yet, but your article continues below.
By clicking on the sign up button you consent to receive the above newsletter from Postmedia Network Inc. You may unsubscribe any time by clicking on the unsubscribe link at the bottom of our emails. Postmedia Network Inc | 365 Bloor Street East, Toronto, Ontario, M4W 3L4 | 416-383-2300
Thanks for signing up!
Comments
Postmedia is committed to maintaining a lively but civil forum for discussion and encouraging all readers to share their views on our articles. Comments may take up to an hour for moderation before appearing on the site. We ask you to keep your comments relevant and respectful. We have enabled email notifications—you will now receive an email if you receive a reply to your comment, there is an update to a comment thread you follow or if a user you follow comments. Visit our Community Guidelines for more information and details on how to adjust your email settings.