Edmonton provides affordability for Gen Z's first-time, younger consumers
Breadcrumb Trail links
homes
Survey by Sotheby's International Realty Canada points to demographic preferring the city life.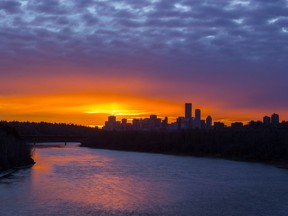 Edmonton realtor Ron Dickson says the young people he is working with enjoy renting downtown for the lifestyle, but plan to buy larger homes outside the downtown. Photo by Greg Southam /Postmedia
Reviews and recommendations are unbiased and products are independently selected. Postmedia may earn an affiliate commission from purchases made through links on this page.
Article content
Edmonton's relative affordability for real estate makes it the ideal city for first-time buyers, in light of a new study about Generation Zs.
Advertisement 2
This advertisement has not been loaded yet, but your article continues below.
Article content
Sotheby's International Realty Canada recently released the final survey in a three-part series on buying intentions of the 20-something demographic, finding among their top preferences was to purchase a home within the city.
According to its findings, 40 per cent nationally wanted to purchase a first home in a major city, while 42 per cent planned to purchase in the suburbs or outlying community, or 82 per cent combined. That number grew to 86 per cent combined in Calgary (48 and 38 per cent), compared with 80 per cent in Vancouver (36 and 44 per cent) and 79 per cent in Toronto (37 and 42 per cent).
"The number is skewed a little bit for Calgary and likely for Edmonton, if it had been included in the study, because they're the two big cities in Canada where homes are still relatively affordable," says Don Kottick, chief executive officer of Sotheby's International Realty Canada.
Advertisement 3
This advertisement has not been loaded yet, but your article continues below.
Article content
The survey also revealed that being in close proximity to the workplace was among the highest priorities among Gen Zs for a first home, with 47 percent nationally indicating this was important. By comparison, only 15 per cent noted being close to downtown was a top priority.
This comes as no surprise to local realtor Ron Dickson, senior vice-president of sales at Sotheby's International Realty Canada.
"In Edmonton, Gen Zs are more likely to go back to the neighborhood in which they grew up for a first home," Dickson says.
That's not to say the demographic of young adults is not choosing to live downtown.
In fact, they are, but they have less intention to buy downtown.
"With the ones I've worked with, they're renting downtown because they want to experience that lifestyle," he says. "But if they're going to live in an apartment, they're renting, not buying a condo, and saving their money for a down payment for a larger home."
Advertisement 4
This advertisement has not been loaded yet, but your article continues below.
Article content
Typically single-family detached homes similar to the ones they grew up in remain the ultimate ownership goal, Dickson says.
Indeed, Edmonton offers better opportunity than most other major cities in this respect with the average price of a single-family home at about $492,000, according to May data from the Realtors Association of Edmonton.
That's compared to more than $1.55 million in Toronto.
More affordable and often an entry point for first-time buyers are condominiums, which in Edmonton average about $239,000 versus more than $770,000 in Toronto.
Dickson points to recent clients telling him how their adult children had moved to Toronto in the last year or so only to move back to Edmonton.
"Once they realized what the cost of living was, they couldn't wait to get back to Edmonton," Dickson says.
Advertisement 5
This advertisement has not been loaded yet, but your article continues below.
Article content
While higher borrowing costs of late negatively affect all Canadian buyers, "Edmonton remains a great place to call home because it is still the most affordable major market in Canada," he adds.
Although condominium apartments continue to be the most affordable segment in the Edmonton market, many first-time buyers are saving up instead for a townhome or a semi-detached house (duplex), Dickson notes.
To that end, RAE statistics show the average price for a duplex or townhome in the city was about $396,000 in May.
"So the popular play for Gen Zs is to rent somewhere fun," he adds, "while saving for a down payment to jump past the condo option and right into a townhouse or half-duplex."
Share this article on your social network
Advertisement 1
This advertisement has not been loaded yet, but your article continues below.
By clicking on the sign up button you consent to receive the above newsletter from Postmedia Network Inc. You may unsubscribe any time by clicking on the unsubscribe link at the bottom of our emails. Postmedia Network Inc | 365 Bloor Street East, Toronto, Ontario, M4W 3L4 | 416-383-2300
Thanks for signing up!
Comments
Postmedia is committed to maintaining a lively but civil forum for discussion and encouraging all readers to share their views on our articles. Comments may take up to an hour for moderation before appearing on the site. We ask you to keep your comments relevant and respectful. We have enabled email notifications—you will now receive an email if you receive a reply to your comment, there is an update to a comment thread you follow or if a user you follow comments. Visit our Community Guidelines for more information and details on how to adjust your email settings.