Edmonton Oilers verify assistant coaches, hockey ops employees; Brad Holland to move professional scouting
Breadcrumb Trail links
Cult of hockey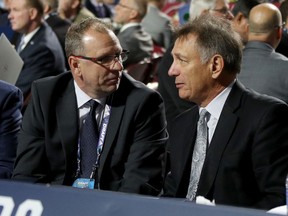 Keith Gretzky will remain Ken Holland's right hand man in 2022-23, even as another man with a familiar surname is moving up the ranks. Photo by Bruce Bennett /Getty Images
Article content
Edmonton Oilers announced Some important housekeeping within the Hockey Ops department has now been finalized with the return of most of the coaching and front office staff.
Advertisement 2
This advertisement has not been loaded yet, but your article continues below.
Article content
As widely anticipated, Brad Holland has been promoted to the role of Assistant General Manager, Professional Scouting. Slightly different title, but he will replace outgoing Director of Pro Scouting Archie Henderson who will be retiring after the NHL Draft wraps up on Friday.
No doubt eyebrows will be raised at the promotion of the General Manager's son into a prominent role, though by most independent accounts he has earned his stripes on his own merits. A lawyer by training, Holland the Younger is touted to have a strong background in analytics, an area the club needs to upgrade in the opinion of this writer. He reportedly received inquiries from several other organizations this off-season, but today's news confirms he isn't going anywhere other than upwards within the Oilers organization.
Advertisement 3
This advertisement has not been loaded yet, but your article continues below.
Article content
RELATED: Big changes in Oilers goaltending, coaching staff, pro scouting
RELATED: Hockey Ops shuffle may lead Oilers fully into modern analytics age
Oilers' AGM and GM of Bakersfield Condors, Keith Gretzky, will also be returning in 2022-23.
Meanwhile, Jay Woodcroft's coaching staff will remain intact other than the previously announced departure of assistant coach Brian Wiseman, who hooked up with the New York Islanders in a similar role earlier this week. The t's have been crossed and i's dotted on the contracts of bench assistants Glen Gulutzan and Dave Manson, as well as goaltending coach Dustin Schwartz and video coach Jeremy Coupal. The video department has been further strengthened with the promotion of Noah Segall from Bakersfield to the post of Video Coordinator.
No word yet as to who might replace Wiseman as the third assistant, nor is there any confirmation of the retention of goaltending consultant Sylvain Rodrigue, who is reportedly drawing interest from other NHL club/s.
Recently at the Cult of Hockey
STAPLES: Holland says Puljujarvi situation could stretch on all summer
McCURDY: What is Oil's biggest need at the draft?
STAPLES: Claude Giroux has entered the chat
McCURDY: Oilers enter 2022 NHL Draft with a short stack
LEAVINS: Does Oilers' hockey ops shuffle signal a change in philosophy? 9 things
Share this article on your social network
Advertisement 1
This advertisement has not been loaded yet, but your article continues below.
By clicking on the sign up button you consent to receive the above newsletter from Postmedia Network Inc. You may unsubscribe any time by clicking on the unsubscribe link at the bottom of our emails. Postmedia Network Inc | 365 Bloor Street East, Toronto, Ontario, M4W 3L4 | 416-383-2300
Thanks for signing up!
Comments
Postmedia is committed to maintaining a lively but civil forum for discussion and encouraging all readers to share their views on our articles. Comments may take up to an hour for moderation before appearing on the site. We ask you to keep your comments relevant and respectful. We have enabled email notifications—you will now receive an email if you receive a reply to your comment, there is an update to a comment thread you follow or if a user you follow comments. Visit our Community Guidelines for more information and details on how to adjust your email settings.