Edmonton Oilers: Evander Kane closing in on a return
Breadcrumb Trail links
Edmonton Oilers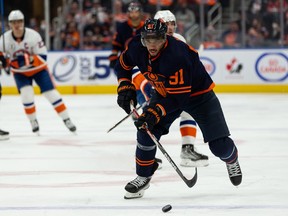 Edmonton Oilers' Evander Kane (91) plays the New York Islanders during third period NHL action at Rogers Place in Edmonton, on Friday, Feb. 11, 2022. Photo by Ian Kucerak Photo by Ian Kucerak /Postmedia
Article content
LAS VEGAS — If Evander Kane had his way he would be back in the lineup next week.
Advertisement 2
This advertisement has not been loaded yet, but your article continues below.
Article content
He's traveling with the team, practicing every day, taking shots and feeling no pain.
By clicking on the sign up button you consent to receive the above newsletter from Postmedia Network Inc. You may unsubscribe any time by clicking on the unsubscribe link at the bottom of our emails or any newsletter. Postmedia Network Inc | 365 Bloor Street East, Toronto, Ontario, M4W 3L4 | 416-383-2300
Thanks for signing up!
Article content
He thinks he's ready.
But, in the wake of such a serious injury — it's been just over two months since he had his wrist sliced ​​to the bone by a skate blade in Tampa Bay — and with the stakes as high as they are, it's not up to him.
Article content
So, Kane will meet with a doctor when the Oilers get back to Edmonton and find out what the return-to-play strategy is really going to be.
If general manager Ken Holland had to make a prediction, it's that the impact winger will be back before the All-Star break.
"I'm saying two weeks," said Holland. "I think that's the long end. I hope it's going to be sooner than that. Certainly he's on the horizon. He's a big part of our team and we've missed him."
Advertisement 3
This advertisement has not been loaded yet, but your article continues below.
Article content
That's great news, considering the original prognosis was closer to three or four months. The fact Kane is able to make any sort of comeback at all speaks to the calm, efficient work of the training staff, medical personnel and surgeons.
"That injury was a major injury, a traumatic, horrific injury," said Oilers coach Jay Woodcroft. "We're thankful we had our great medical people there. Not only did they save his life, but their quick action made sure he was able to get into surgery quickly and the doctors in Florida did a great job.
"I expect him back sooner than most people think. He's champion at the bit. He's been in every practice for a while now. He's sick of getting extra-skated at the end. That's driving him to heal fast."
Advertisement 4
This advertisement has not been loaded yet, but your article continues below.
Article content
ALL CANADIAN
With five points in two games against Anaheim and San Jose, Ryan Nugent-Hopkins continues his assault on his personal bests for goals (28), assists (41) and points (63) in a season.
He's currently at 21 goals, 32 assists and 53 points with just under half a season to go and sits second only to Connor McDavid is points scored by a Canadian-born player this season, ahead of the likes of Mitch Marner and Sidney Crosby.
After scoring just 11 goals last year, he's pulling the trigger like a true shooter.
"Guys are putting me in good spots to put the puck in the net and I'm trying to bear down as much as I can," he said. "I'm definitely getting some good passes and some good looks, I'm just trying to finish as much as possible."
Advertisement 5
This advertisement has not been loaded yet, but your article continues below.
Article content
HOME SICK
The Oilers have only had one losing road trip so far this season — the New Jersey, New York Islanders and Rangers swing in late November. They've either won or gone .500 on every other trip for a 13-7 record heading into Vegas.
They need to shore things up at home, though. That 10-11-2 pace is not going to get them into the post-season.
"We like playing on the road, we've always been a pretty decent road team the last couple of years," said McDavid. "But we have to figure home ice out. You have to win on home ice, that's what good teams do."
Asked why his team is so much more successful on the road, Woodcroft admits he's at a loss.
"No, can't explain it. In the end it's something that we're going to have to take care of."
MORNING PERSON
Advertisement 6
This advertisement has not been loaded yet, but your article continues below.
Article content
Optional morning skates are typically reserved for rookies, healthy scratches and players who don't get a lot of ice time in a game. Veterans take part on occasion, but usually exercise the option to stay off the ice.
And then there's Darnell Nurse. He's been in the league for more than 500 games and routinely longs 25-plus minutes a night, but he's out there for the morning optionals like clockwork.
"I just like to go out there and get a feel," said the 27-year-old. "It's just become part of my routine. A lot of times you have the younger guys out there who are working their way in and sometimes it's good to have a vet out there and kind of help out in that department."
It would seem wiser to conserve his energy, but Nurse doesn't feel that being out there in the morning is a drain.
Advertisement 7
This advertisement has not been loaded yet, but your article continues below.
Article content
"I'm napping all afternoon. I'm doing everything to repair and rest. You go out for the morning skate just to get a feel; you're not doing down and backs and bag skating.
"It's fun to go out on the ice and just pass around the puck, shoot the puck. I have been using the option a little bit more this year, but I still like to go out there most days."
Woodcroft leaves it up to the talent to decide whether they need to go for a morning twirl or not.
"Players are the best judges of what they need to do to be ready for the evening," he said. "Some guys are big in getting a little bit of an off ice workout, other guys like the puck touches that come along with going out there.
"There are different philosophies on it. Sometimes players are just bored during the day."
Email: [email protected]
On Twitter: @Rob_Tychkowski
Share this article on your social network
Related Stories
Oilers missing the point as five-on-five play proves costly in OT loss to Avs

True, the Oilers got a point and are in a Western Conference wild-card position (second, behind Calgary), but on a night when they managed only one point at home, they lost ground to Seattle and Los Angeles, who each got two .

Edmonton Oilers: Strong debut for Desharnais; Kostin up, Jesse down

"He looked really good back there. He's a big man, really long and did a good job of defending our line, breaking pucks out and doing a lot of really good things."

Advertisement 2

This advertisement has not been loaded yet, but your article continues below.

Edmonton Oilers pour it on again in California, routing Sharks 7-1

SAN JOSE — Amid a brutal and relentless stretch of rainstorms that have been pounding California for nearly two weeks, the Edmonton Oilers did a pretty good job of dampening the mood even more.

Six-foot-six defenseman's dream comes true: A shot with the Edmonton Oilers

ANAHEIM — For all that is going wrong for the Edmonton Oilers lately — a litany of blown leads and humbling losses as they lose their grip on the final playoff spot in the Western Conference — there is still room for a feel good story to break up the clouds.

Edmonton Oilers: Second half has to be a lot better than the first half

LOS ANGELES — As the Edmonton Oilers returned to Staples Center for the first time since breaking through their post-season glass ceiling last year, there was a temptation to suggest that this is where they finally took their long-awaited next step.
Advertisement 1
This advertisement has not been loaded yet, but your article continues below.
Comments
Postmedia is committed to maintaining a lively but civil forum for discussion and encouraging all readers to share their views on our articles. Comments may take up to an hour for moderation before appearing on the site. We ask you to keep your comments relevant and respectful. We have enabled email notifications—you will now receive an email if you receive a reply to your comment, there is an update to a comment thread you follow or if a user you follow comments. Visit our Community Guidelines for more information and details on how to adjust your email settings.