Edmonton home costs to extend as market stabilizes: 2023 forecast
Breadcrumb Trail links
real estate
Local News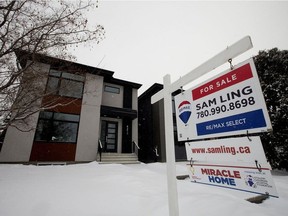 Royal LePage expects home prices in Edmonton to increase by the end of 2023 as the market begins to stabilize. Photo by File /SunMedia
Article content
In the face of higher interest rates, Edmonton homes could be worth a little more this time next year, although condos might buck the trend, a new real-estate forecast projects.
Advertisement 2
This advertisement has not been loaded yet, but your article continues below.
Article content
The aggregate price of a home in Edmonton could increase one per cent to $442,683 from $438,300 in the fourth quarter of 2022, real-estate brokerage Royal LePage said in a 2023 market survey forecast. The brokerage's aggregate home price is based on a weighted model using median prices and includes all housing types.
By clicking on the sign up button you consent to receive the above newsletter from Postmedia Network Inc. You may unsubscribe any time by clicking on the unsubscribe link at the bottom of our emails. Postmedia Network Inc | 365 Bloor Street East, Toronto, Ontario, M4W 3L4 | 416-383-2300
Thanks for signing up!
Article content
Moreover, the forecast projects the median price of a single-family detached property to climb two per cent to $491,436 from $481,800, while the median price of a condominium could drop 1.5 per cent to $198,281 from $201,300 over the same period.
Edmonton's housing market is seeing an inventory shortage that's keeping home prices in check and the market balanced, said Tom Shearer, a broker and owner of Royal LePage Noralta Real Estate in Edmonton.
Advertisement 3
This advertisement has not been loaded yet, but your article continues below.
Article content
"We've gone through an exceptional time in real estate, and that can't last forever," he told Postmedia in an interview. "Eventually there has to be a normalization, and I think that's what we're moving toward in the new year."
As for condos, which tend to be more affordable, there aren't enough buyers to drive value even though they offer a lifestyle option that works well for many, Shearer said.
"First-time homebuyers can afford to get that single-family home that maybe they're aspiring for in the first place," he said.
The forecast expects condo prices to outperform single-family homes in all major markets except Edmonton and Winnipeg.
Low borrowing costs prior to March, climbing household savings and a desire for more space during the COVID-19 pandemic fueled appreciation for nearly two years, Royal LePage president and CEO Phil Soper said in a Tuesday news release. But an inevitable downward slide has begun to correct the "frenzied housing market overshot," he said.
Advertisement 4
This advertisement has not been loaded yet, but your article continues below.
Article content
Meanwhile, the forecast expects the aggregate home price in Canada to decrease one per cent by this time next year after prices flatten in the second quarter of 2023 before trending up by year end.
From the last quarter of 2022 to the first quarter of 2023, the national forecast expects to see prices drop 2.4 per cent to $754,072 from $772,926 before dipping another 0.03 per cent to $753,875 the following quarter. By the third quarter, prices could rise by 0.7 per cent to $759,402 and another 0.8 per cent to $765,171 by the end of next year.
The Realtors Association of Edmonton's market statistics for the third quarter of 2022 suggest a balanced market, according to a City of Edmonton economic update released Dec. 5.
"In a balanced market, neither buyers nor sellers have more power, which helps to stabilize price growth as demand (via buyers) and supply (via sellers) are viewed as being close to equilibrium," the economic update stated.
The city report went on to note housing starts in Edmonton remain strong and up 25 per cent year over year in the third quarter, according to Canada Mortgage and Housing Corporation figures.
The first three quarters of 2022 saw housing starts in Edmonton almost 21 per cent higher year-over-year with gains in apartment (49.8 per cent) and single detached home (17.4 per cent) starts, the city stated.
@hamdiissawi
Share this article on your social network
Advertisement 1
This advertisement has not been loaded yet, but your article continues below.
Comments
Postmedia is committed to maintaining a lively but civil forum for discussion and encouraging all readers to share their views on our articles. Comments may take up to an hour for moderation before appearing on the site. We ask you to keep your comments relevant and respectful. We have enabled email notifications—you will now receive an email if you receive a reply to your comment, there is an update to a comment thread you follow or if a user you follow comments. Visit our Community Guidelines for more information and details on how to adjust your email settings.