Edmonton Fall Residence Present: 'The cabins could also be tiny, however … spectacular'
Breadcrumb Trail links
homes
Edmonton Fall Home Show
Want a backyard getaway, small ski cabin or a unique AirBnB to rent out? Gather some great ideas for "shabins."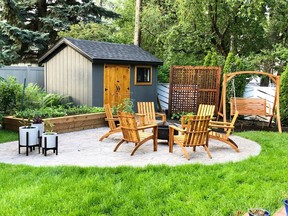 Home on the Hill showcases what's possible for mini-cabins at the Calgary Fall Home Show. Photo by Supplied /Postmedia
Reviews and recommendations are unbiased and products are independently selected. Postmedia may earn an affiliate commission from purchases made through links on this page.
Article content
Discover ideas and inspiration on how, what and where to buy a second home or vacation property at the 2022 Edmonton Fall Home Show.
Advertisement 2
This advertisement has not been loaded yet, but your article continues below.
Article content
As Canadians contemplate cooler temperatures ahead, this year's show will include a creative micro-cabin design feature with the perfect alpine vibe for weekend ski adventures.
By clicking on the sign up button you consent to receive the above newsletter from Postmedia Network Inc. You may unsubscribe any time by clicking on the unsubscribe link at the bottom of our emails. Postmedia Network Inc | 365 Bloor Street East, Toronto, Ontario, M4W 3L4 | 416-383-2300
Thanks for signing up!
Article content
Fall Home show manager Kristy Cairns says Home on the Hill will bring the "top of the piste" to the annual three-day event running Oct. 14 to 16 at the Edmonton Expo Centre.
"This design feature will showcase some amazing tiny cabins designed in a cozy-chic, apres ski vibe. We are always trying to stay on trend and inspire, so whether folks are looking for a unique addition to a vacation property or designing their own lake/cabin rental, they'll find inspiration," she says.
Alberta builders Forest Trek Woodwork and Maetche Construction, collaborators in real life and for the Fall Home Show, will each have a handcrafted micro-cabin on site.
Advertisement 3
This advertisement has not been loaded yet, but your article continues below.
Article content
"The cabins may be tiny, but they are impressive," Cairns says.
Maetche Construction owner Matt Maetche will showcase a 10-foot by 17-foot cabin, or "shabin," a portmanteau of shed and cabin, which can be erected or built on almost any lot without the need for the permits that some locations such as Lake communities or RV parks require.
"When you build a shed, there aren't as many hoops to jump through. They fit the size requirements of a shed, but we built them as a cabin," he says.
His cabins are constructed of local wood, such as pine or cedar, with maintenance-free James Hardie concrete siding and metal roofs. Each tiny home is wired and can be connected to a generator or to solar panels if there is no permitted power onsite.
Advertisement 4
This advertisement has not been loaded yet, but your article continues below.
Article content
"The one at the show is 170 square feet. It has a loft with a window—a single sleeper, but you could get up to four people in it," Maetche says.
His cabins retail between $15,000 and $20,000 depending on the interior finishings. The price includes delivery when it's possible to deliver in one piece.
"We did a lot of jobs in Radium and Invermere where we had to frame on location," he says. "You could use these as little ski-in chalets — they fit that vibe."
Maetche shares space in his shop west of Edmonton with co-exhibitor Forest Trek Woodwork, which will showcase a smaller alpine-themed micro-cabin for the home show.
Explore more alpine-adventure ideas and decor at the Home on the Hill feature at the Edmonton Fall Home Show. Save $2 per ticket by purchasing online at edmontonfallhomeshow.com
Share this article on your social network
Advertisement 1
This advertisement has not been loaded yet, but your article continues below.
Comments
Postmedia is committed to maintaining a lively but civil forum for discussion and encouraging all readers to share their views on our articles. Comments may take up to an hour for moderation before appearing on the site. We ask you to keep your comments relevant and respectful. We have enabled email notifications—you will now receive an email if you receive a reply to your comment, there is an update to a comment thread you follow or if a user you follow comments. Visit our Community Guidelines for more information and details on how to adjust your email settings.