Edmonton Fall Dwelling Present: What's your design model?
Breadcrumb Trail links
homes
Edmonton Fall Home Show
Jennifer Woch of House of J Interior Design showcases three different interiors in Design Styles.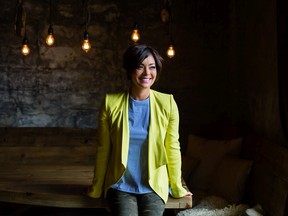 Jennifer Woch will present all about interior design at the Edmonton Fall Home Show. Photo by Christina Louise Photography /Postmedia
Reviews and recommendations are unbiased and products are independently selected. Postmedia may earn an affiliate commission from purchases made through links on this page.
Article content
From how to live a greener life in a more waste-free world to DIY renos and vacation home inspo, the 2022 Edmonton Fall Home Show, Oct. 14 to Oct. 16 at the Edmonton Expo Centre, has all the products and ideas you need one roof.
Advertisement 2
This advertisement has not been loaded yet, but your article continues below.
Article content
The show will feature nearly 200 exhibitors, including artists, furniture makers and retailers, building contractors and home improvement specialists. HGTV Canada's star renovation expert Sebastian Clovis plus Toronto designer and TV personality Tiffany Pratt will be on the Main Stage, along with Alberta's own Megan Golightly of GoSimplified.
By clicking on the sign up button you consent to receive the above newsletter from Postmedia Network Inc. You may unsubscribe any time by clicking on the unsubscribe link at the bottom of our emails. Postmedia Network Inc | 365 Bloor Street East, Toronto, Ontario, M4W 3L4 | 416-383-2300
Thanks for signing up!
Article content
Special features at the Edmonton Fall Home Show include sustainable living at The Greener Side, ideas for a mini-ski chalet at Home on the Hill and Design Decisions with Edmonton's Jennifer Woch of House of J Interior Design.
Design Decisions will model three furnished and decorated rooms that show off three different interior design styles. One will illustrate a Graffiti style, while another will feature Mid-Century Modern. The third room will be cooked up in a Scandinavian flavor.
Advertisement 3
This advertisement has not been loaded yet, but your article continues below.
Article content
The room layouts are a jumping off point for greater conversations with home show visitors about how to narrow down a design style they love.
"People can see a particular style all together. But in reality, when you're putting a room together, you can borrow bits and pieces from other looks. Your home can fit your personality while also keeping on trend," she says. "If you like something and it's not on trend, or if you're mixing two or three different trends, go for it."
Woch has shared her expertise with Edmonton home show audiences before. There's a thirst for information on what's trending, what the latest paint colors are and what's coming in the future.
"I always say, if they're not sure which trend speaks to them, they should get on Pinterest or Houzz and just start collecting. A common theme should arise and if they can't see it, they could hire an interior designer to help them figure it out," she says.
Advertisement 4
This advertisement has not been loaded yet, but your article continues below.
Article content
When Week visits client's homes for consultations, she goes straight to their closet.
"I see the colors and styles they like. It doesn't always translate into the home, but it shows personality," she says. "A designer can help guide people and fine tune those tastes and flavors."
The best design, regardless of what's trending, is when someone can break out of a mold and be true to what they like. When people literally gasp and say, "oh, I really love it, but I'm scared to do it."
"That's the stuff you should do. The stuff that sings to your soul," she says.
The Design Decisions feature is on display throughout the three-day home show at the Edmonton Expo Centre, open Friday, Oct. 14 from noon to 9 pm, Saturday, Oct. 15 from 10 am to 9 pm and Sunday, Oct 16. from 10 am to 6 pm Tickets can be purchased at the door or at a discount online at edmontonfallhomeshow.com
Share this article on your social network
Advertisement 1
This advertisement has not been loaded yet, but your article continues below.
Comments
Postmedia is committed to maintaining a lively but civil forum for discussion and encouraging all readers to share their views on our articles. Comments may take up to an hour for moderation before appearing on the site. We ask you to keep your comments relevant and respectful. We have enabled email notifications—you will now receive an email if you receive a reply to your comment, there is an update to a comment thread you follow or if a user you follow comments. Visit our Community Guidelines for more information and details on how to adjust your email settings.