Dozens of beautifully-crafted animals you possibly can scout out in Edmonton anytime of yr
Breadcrumb Trail links
Local Arts
Reviews and recommendations are unbiased and products are independently selected. Postmedia may earn an affiliate commission from purchases made through links on this page.
Article content
One of the great things about animals being depicted in public art is it's tough to dig up controversy around them.
No moose has ever written awful screeds a hundred years back, and few are the beavers, ptarmigans or buffalo whose social media legacies turn sour as they stumble into their twilight years.
By clicking on the sign up button you consent to receive the above newsletter from Postmedia Network Inc. You may unsubscribe any time by clicking on the unsubscribe link at the bottom of our emails or any newsletter. Postmedia Network Inc | 365 Bloor Street East, Toronto, Ontario, M4W 3L4 | 416-383-2300
Thanks for signing up!
Article content
I've written about animal-centric public art before, but thanks to a number of new works popping up in the last couple of years — multiple dozens on a single bridge, actually — what follows is a cheerful list of must-see-beastie Works in no particular order. Let the safari begin!
Advertisement 2
This advertisement has not been loaded yet, but your article continues below.
Article content
The Dove of Peace, Edward J. Williams (west side of Gallagher Park, 9595 96 Ave., 1984) — This beautiful bit of artistic architecture is actually the mere skeleton of a giant dove once covered in a white canvas tarp to shield Pope John Paul from the elements during his visit to a farm north of the city. Though signs around say "do not climb," a swing does magically appear now and then hanging from its beams, making for idyllic memories. We could use a little more peace right now, so have a visit to this lovely spot. Bonus: look over at Walterdale Bridge from the right angle at night, it also looks like a luminous dove's head.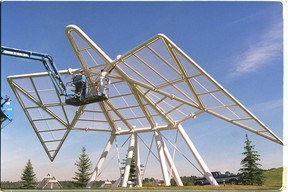 City workers put a new coat of paint on the ceremonial dove below Connors Road, erected for a 1984 papal visit. paint. Photo by Shaughn Butts /Postmedia
Ball Nogue Studio's Talus Dome (Quesnell Bridge/Whitemud Drive, 2012) — It's been 10 years since this pile of 1,000 stainless steel cast silver spheres melted the city's collective mind and quickly became a popular wedding photo spot. Right around then, I somehow ended up in Vladivostok on a billionaire's yacht, and so it was that this famous sculpture always reminds me of the heaping caviar served aboard. So yeah: colossal fish eggs! But please don't lick it, especially in winter!
Advertisement 3
This advertisement has not been loaded yet, but your article continues below.
Article content
Animated owl under Legislature Grounds (97 Avenue tunnel, late '70s) — Part of the now-crumbling beige gravel Alberta Legislature Plaza revamp built at the end of the disco era, the tunnel beneath the Lege still holds one of the city's great head- turners — the shape of an animated owl in flight pressed into the concrete. Don't look too closely at the ground below where many a pigeon has left this world.
Rice Howard Way Alley of Light (southwest side of McLeod Building, 10134 110 St., 2022) — Are monsters animals? Sometimes! A dragon floating on its back and a land octopus with google eyes are among Josh Harnack's mutants in the T-shaped alley he also adorned with a tiger, racoon and other animals with artist Nathan Panousis, whose snake leads you in across the street from Sherlock holmes The Works did a great job making this previously grubby alley a happy place.
Advertisement 4
This advertisement has not been loaded yet, but your article continues below.
Article content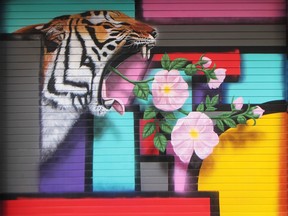 A piece on Rice Howard Way Alley of Light by Josh Harnack and Nathan Panousis. Photo by Fish Griwkowsky /Postmedia
Connect Physiotherapy mural (6316 106 St.) — Another one by Harnack worth mentioning went up this summer in Allendale, the painter's mysterious and untitled rumination on death given form via a lion riding a bicycle in front of a giant goose with a flower pedal collar . Butterflies and a skeletal bird — a cousin to the one in Gallagher Park — are also in this one, delightfully weird and wonderful. Bonus: Harnack also painted a fly and venus flytrap in jumpsuits east of Credo on 104 Street downtown. No, really!
Boy with Dog (Paul Kane Park, 10220 121 St.) — Named for an Irish painter, Paul Kane Park is one of the city's most beautifully landscaped spots, and this classic sculpture of simple companionship by British artist John Robinson is a municipal classic. Of course, this is a great place to see real animals as well, including living dogs tearing after the resident birds and squirrels.
Advertisement 5
This advertisement has not been loaded yet, but your article continues below.
Article content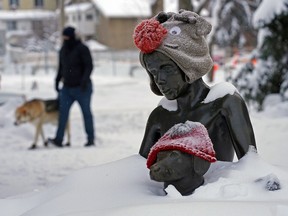 A snow-covered sculpture of a boy and dog by artist John Robinson in Paul Kane Park. Photo by Larry Wong /Postmedia
Paskwamostos (Shaw Conference Center, 9797 Jasper Ave., 1999) — There had to be at least one lone buffalo in here! While the late, great Joe Fafard's realistic farm animals are hanging out on 112 Street and Jasper Avenue, the artist's plasma-cut steel sculpture — its name Cree for buffalo — is one of the valley's many awesome animal sculptures, including the Chinese Zodiac up the road at Louise McKinney Park and multiple sculptures at ÎNÎW River Lot 11 Indigenous Art Park across the river.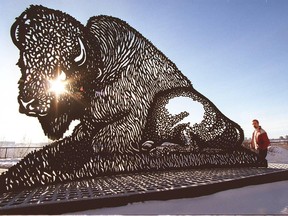 A bison sculpture by artist Joe Fafard on the south side of the Shaw Conference building. Photo by Ian Jackson /Files
Tahedl's Nine (Royal Alberta Museum, 9810 103a Ave., 1966) — While Ernestine Tahedl's gorgeous landmark originally commissioned by the federal government for the old downtown post office is technically abstract expressionism, it does contain a simian-looking panel with two distinct eyes. If that sounds like too much monkey business to you, the bronze mammoths inside the RAM's lobby should satisfy cravings for more straightforward animal depiction.
Advertisement 6
This advertisement has not been loaded yet, but your article continues below.
Article content
Tsą tsą ke k'e (Iron Foot Place) (Rogers Place, 10220 104 Ave., 2016) — Another landmark of abstract impressionism, this 14-metre circular mosaic masterpiece is one of the city's great artworks, hidden in plain sight below a flashy advertising screen. You can get happily lost wandering around on Alex Janvier's cursive abstract lines, but look around and you'll spot a very distinct snow goose you can almost hear honking — or is that the shiny truck beside it?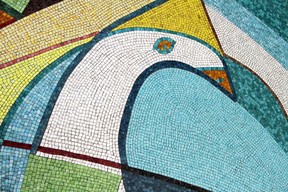 Alex Janvier's snow goose in Rogers Place. Photo by Fish Griwkowsky /Postmedia
Tawatinâ Bridge (across the North Saskatchewan River connecting Riverdale and Cloverdale, 2021) — With more than 500 painted panels affixed to its footpath ceiling, Regina artist and associate professor David Garneau's incredible outdoor gallery he painted with many others is an absolutely magical marker of place and times. Starting with a magpie on a leaf on the north end, east of Lousie McKinney Park, there are a good hundred animals depicted here, including bison, spiders, a silhouette horse with a train inside and, like the 97 Avenue tunnel, more "animated " movement of fish and birds. If you're ever feeling down, walk across this bridge looking up and I swear you'll feel a connection and know you belong.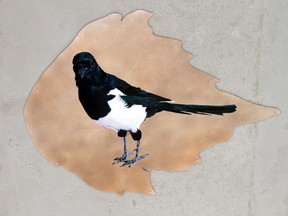 David Garneau's magpie painting on Edmonton's Tawatinâ Bridge. Photo by Fish Griwkowsky /Postmedia
@fisheyephoto
Share this article on your social network
Advertisement 1
This advertisement has not been loaded yet, but your article continues below.
Comments
Postmedia is committed to maintaining a lively but civil forum for discussion and encouraging all readers to share their views on our articles. Comments may take up to an hour for moderation before appearing on the site. We ask you to keep your comments relevant and respectful. We have enabled email notifications—you will now receive an email if you receive a reply to your comment, there is an update to a comment thread you follow or if a user you follow comments. Visit our Community Guidelines for more information and details on how to adjust your email settings.