Desmond Tutu visited Edmonton in 1998. The person who invited him remembers his impression
Links to the breadcrumb trail
Local news
"He was a real human rights advocate," said 90-year-old Bhatia from his home in southern Edmonton
Author of the article:
Hamdi Issawi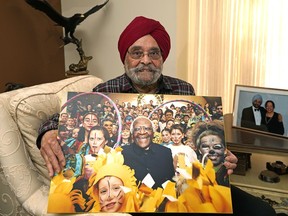 Gurcharan Bhatia holds a photo of Bishop Desmond Tutu at his Edmonton home on January 4, 2022. Bhatia and his late wife Jiti were instrumental in bringing Tutu to Edmonton in 1998 to attend the International Conference on Human Rights. Tutu died on December 26, 2021 at the age of 90. Photo by Larry Wong /Mail media
Article content
When Desmond Tutu died, the thoughts of former Canadian Citizenship Court Justice Gurcharan Bhatia returned to the cleric's visit to Edmonton 23 years ago, and the waves that can still be felt today have lingered in his wake.
display
This ad hasn't loaded yet, but your article continues below.
Article content
"H e was a real promoter of human rights, "said 90-year-old Bhatia from his home in southern Edmonton. "He always swam against the current."
In 1998, Bhatia, then chairman of a conference to celebrate the 50th Prize in 1984, sought.
Believing a personal invitation would help his case, Bhatia took his wife Jiti on a flight to Cape Town, South Africa in February to seek an audience with the former archbishop.
At the time, Tutu was busy helping his own country, as chairman of the South African Truth and Reconciliation Commission, come to terms with its past – a process that documented human rights abuses committed and suffered under apartheid. Tutu would submit the first five volumes of the resulting report to South African President Nelson Mandela a month before Bhatia's conference.
display
This ad hasn't loaded yet, but your article continues below.
Article content
The Nobel Laureate was initially unable to commit to the visit, Bhatia said, but a heartfelt appeal from his significant other could have helped seal the deal.
"Lord. Tutu said, 'I will pray that God will make your conference a success,'" Bhatia recalled. "And she said, 'Look, this prayer has to go to you. If you don't come, it will not happen.'"
Tutu laughed, added Bhatia, and the rest is history.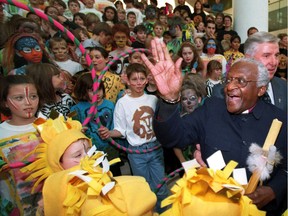 November 27, 1998. Archbishop Desmond Tutu waves to the St. Richard Catholic Elementary schoolchildren as they recite the Lion King songs in City Hall. Tutu was in town on November 27, 1998 for the UN human rights conference. While in town, Tutu stayed at the Fairmont Hotel Macdonald. Photo to file Photo
News of Tutu's upcoming Edmonton visit kept the city buzzing months in advance and prompted organizers to heed the growing interest in the event. Approximately 700 delegates from more than 30 countries attended the three-day meeting, after which Tutu filled the anniversary auditorium with the University of Alberta's inaugural guest lecture on human rights – an event the university continues to host annually.
display
This ad hasn't loaded yet, but your article continues below.
Article content
While in town, Tutu also spoke to then Prime Minister Ralph Klein, whose faction had defied support for the UN Convention on the Rights of the Child, particularly articles dealing with a child's right to access written and visual material.
Up until that point, Alberta had refused to approve the document, but after speaking with Tutu, Klein said his group would take the matter up again. Alberta Hansard notes that Klein wrote to Prime Minister Jean Chrétien the following January, providing "qualified assistance" to Alberta's federal authorities to ratify the Convention as long as it "does not presume or override the authority of parents."
The conference also produced the Edmonton Rights Resolution, which called upon countries around the world to protect the human rights of all citizens.
display
This ad hasn't loaded yet, but your article continues below.
Article content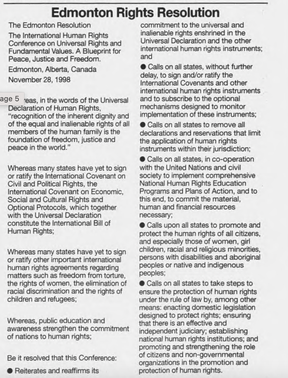 An excerpt from the Edmonton Rights Resolution from the Edmonton Journal dated November 29, 1998.
The idea was to promote these values, enshrined in the Universal Declaration of Human Rights, around the world by cultivating a culture that does not discriminate on the basis of gender, color or creed, Bhatia said.
"Respect for everyone should be a natural behavior," he explained. "It is an affair of the heart."
However, added Bhatia, such a vision is not easy to achieve.
Recalling the Cape Town meeting all those years ago, Bhatia said he asked Tutu to describe the efforts that would be needed to fight for human rights given his experience in South Africa.
"He thought for a minute and said, 'Have you ever gone into the river and swam against the current? It is very difficult. You have to be very strong and religious, '"Bhatia recalls.
With 2023 marking the diamond anniversary of the UN Declaration of Human Rights, Bhatia hopes Edmonton can harness the energy from the previous conference and host another to keep the cause going.
– With files from Postmedia
@hamdiissawi
Share this article on your social network
display
This ad hasn't loaded yet, but your article continues below.
By clicking the registration button, you agree to receive the above-mentioned newsletter from Postmedia Network Inc. You can unsubscribe at any time by clicking the unsubscribe link at the bottom of our emails. Postmedia Network Inc. | 365 Bloor Street East, Toronto, Ontario, M4W 3L4 | 416-383-2300
Thanks for registering!
Remarks
Postmedia advocates a lively but civil discussion forum and encourages all readers to share their views on our articles. It can take up to an hour for comments to be moderated before they appear on the site. We ask that you keep your comments relevant and respectful. We turned email notifications on – you will now receive an email when you've received a reply to your comment, there's an update on a comment thread you're following, or when a user follows a comment. Please refer to our Community Guidelines for more information and details on how to customize your email settings.