Court docket quashes contempt conviction Edmonton lawyer refused masks order
Breadcrumb Trail links
Local News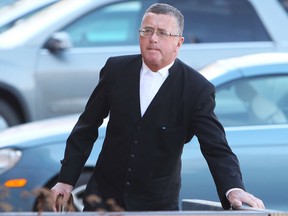 Retired defense lawyer Peter Royal, seen in a 2012 file photo. Alberta's Court of Appeal quashed a 2021 conviction that found Royal in contempt of court for refusing a judge's order to wear a face covering. Photo by David Bloom /Postmedia
Article content
Alberta's Court of Appeal quashed a contempt conviction for an Edmonton lawyer who refused to wear a mask in court last year.
Advertisement 2
This advertisement has not been loaded yet, but your article continues below.
Article content
Peter Royal, a prominent defense lawyer who has since retired, was cited with contempt of court during a July 2021 hearing after refusing provincial court Judge Marilena Carminati's order to wear a face covering due to the COVID-19 pandemic. Another provincial court judge held a hearing the following November, found Royal in contempt and ordered him to pay a $2,000 fine.
By clicking on the sign up button you consent to receive the above newsletter from Postmedia Network Inc. You may unsubscribe any time by clicking on the unsubscribe link at the bottom of our emails. Postmedia Network Inc | 365 Bloor Street East, Toronto, Ontario, M4W 3L4 | 416-383-2300
Thanks for signing up!
Article content
In a decision issued Tuesday, the Court of Appeal ruled that the second provincial court judge "had no jurisdiction to entertain a proceeding for contempt before another judge," and set aside the conviction.
Steven Penney, a professor with the University of Alberta's faculty of law, told Postmedia the decision relies on a fairly obscure and brief Supreme Court of Canada judgment.
Advertisement 3
This advertisement has not been loaded yet, but your article continues below.
Article content
"The Alberta Court of Appeal found there was binding Supreme Court of Canada authority holding that — while in some circumstances a provincial court judge hearing a matter can find someone in contempt at that very proceeding — it is beyond the jurisdiction of a provincial court judge to refer a contempt proceeding to another judge of the same court."



$2,000 fine imposed on Edmonton lawyer found in contempt for not wearing mask in court




COVID-19 on trial and a hard-fought conviction: Five Edmonton court cases that stood out in 2021
Superior courts, including the Court of King's Bench in Alberta, have what lawyers call "inherent jurisdiction," but provincial courts have limited powers governed exclusively by legislation, Penney said.
Advertisement 4
This advertisement has not been loaded yet, but your article continues below.
Article content
"According to the Alberta Court of Appeal, the law is clear that — at least as far as the Supreme Court of Canada is concerned — the proper route for dealing with contempt sanctions, where the judge who feels that there may be contempt does not want to rule on it himself or herself, is to refer it to a judge of the superior court."
While much of the province had lifted masking measures at the time of the citation, Alberta courts continued to require face coverings in common areas and individual judges were left to decide whether or not lawyers were required to wear masks in courtrooms.
Judge Bruce Fraser, who presided over the contempt hearing in November, said at the time that Royal's refusal to wear a mask was "willfully stubborn and disobedient" given that the lawyer also challenged Carminati by asking her "what are you going to do about that ?"
Advertisement 5
This advertisement has not been loaded yet, but your article continues below.
Article content
However, Fraser was satisfied that Royal purged his contempt after the latter apologized for the trouble he caused and assured the court that sort of behavior wouldn't happen again.
Penney said the Court of Appeal's decision was based purely on provincial court jurisdiction.
"The appeal does not say a single word about the merits of the decision, whether it was appropriate or inappropriate to find Mr. Royal in contempt," he said.
Royal is married to Mary Moreau, the chief justice of the Alberta Court of King's Bench who has been a proponent of masking, virtual court appearances and COVID-related courtroom remodels.
— With files from Jonny Wakefield
@hamdiissawi
Share this article on your social network
Advertisement 1
This advertisement has not been loaded yet, but your article continues below.
Comments
Postmedia is committed to maintaining a lively but civil forum for discussion and encouraging all readers to share their views on our articles. Comments may take up to an hour for moderation before appearing on the site. We ask you to keep your comments relevant and respectful. We have enabled email notifications—you will now receive an email if you receive a reply to your comment, there is an update to a comment thread you follow or if a user you follow comments. Visit our Community Guidelines for more information and details on how to adjust your email settings.