$2M wanted to improve GPS system for Edmonton peace officers: report
Breadcrumb Trail links
Local News
"Having a fully functional dispatch and GPS system helps keep officers safe in an event of an emergency and can help the branch make data-based decisions in their deployment strategy."
Publishing date:
Oct 16, 2022 • October 16, 2022 • 2 minutes read 5 comments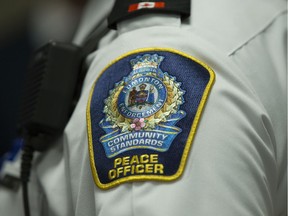 Edmonton community standards peace officer. Photo by David Bloom /Postmedia, file
Article content
City managers are recommending a $2-million upgrade to dispatch and GPS systems used to track municipal peace officers after a new city audit found that the current technology has not been reliable.
Advertisement 2
This advertisement has not been loaded yet, but your article continues below.
Article content
To support the safety of peace officers, the city requires them to use their radio or phone to check in hourly with dispatch staff and to have a working GPS app on their phones that shows their location at all times.
By clicking on the sign up button you consent to receive the above newsletter from Postmedia Network Inc. You may unsubscribe any time by clicking on the unsubscribe link at the bottom of our emails. Postmedia Network Inc | 365 Bloor Street East, Toronto, Ontario, M4W 3L4 | 416-383-2300
Thanks for signing up!
Article content
But a new report out of the city auditor's office has found the GPS system has had technical issues dating back to 2020. It found officers' locations were not moving, there were login challenges, and the program would not load.
The auditor's office tested officer check-ins in January, in part to determine how often dispatch could confirm if an officer could be located using GPS. They found GPS check-ins were confirmed by dispatch in only one per cent of cases. Transit peace officers were not included in the evaluation.
Advertisement 3
This advertisement has not been loaded yet, but your article continues below.
Article content
In May, the community standards and neighborhoods branch stopped using the existing GPS system and temporarily moved to Google Maps using cellphone GPS.
The audit report is expected to be discussed at the audit committee on Oct. 21
Reliable, real-time geo-location is necessary for emergency response, allows dispatchers to identify the closest peace officer when a high-priority call is received, and provides data on call types and problem areas, the report states.
"Having a fully functional dispatch and GPS system helps keep officers safe in an event of an emergency and can help the branch make data-based decisions in their deployment strategy."
The report recommends the branch implement a fully functional dispatch and GPS system.
Advertisement 4
This advertisement has not been loaded yet, but your article continues below.
Article content
In response, city administration identified that $2 million would be needed to make those improvements.
"There is an opportunity to use dispatch systems to better coordinate the activities of peace officers and municipal enforcement officers — this would be a similar approach to what is already in place for transit peace officers," the city administration's report says.
"Having a proper dispatch and GPS tracking system would align the branch with other first responder and emergency services groups, such as Edmonton Fire Rescue Services or the Edmonton Police Service."
A proposal to install better technology is being prepared for council's upcoming four-year budget deliberations. If approved, implementation would be possible by the end of next year, managers say.
Advertisement 5
This advertisement has not been loaded yet, but your article continues below.
Article content
The audit report also identified the branch needs to update enforcement-related policies and procedures. It found the transit policy and procedure manual has not been updated for eight years and does not reflect current enforcement practices.
While clear objectives for transit peace officers are included in the manual, 75 per cent of those interviewed "provided inconsistent responses that did not align with the stated objectives."
The audit also found the city's animal protection team has not been meeting standards that require officers to conduct routine inspections of all pet stores once a month, with additional visits if there are further complaints.
The branch completed only 36 per cent of the required inspections in 2020 and 2021, the report said.
The team indicated a majority of stores are franchised and are required to follow corporate standards that are already in compliance. The team also said time was allocated towards higher priority issues such as calls related to injured, sick, or neglected animals instead of conducting inspections.
Twitter.com/JunkerAnna
Share this article on your social network
Advertisement 1
This advertisement has not been loaded yet, but your article continues below.
Comments
Postmedia is committed to maintaining a lively but civil forum for discussion and encouraging all readers to share their views on our articles. Comments may take up to an hour for moderation before appearing on the site. We ask you to keep your comments relevant and respectful. We have enabled email notifications—you will now receive an email if you receive a reply to your comment, there is an update to a comment thread you follow or if a user you follow comments. Visit our Community Guidelines for more information and details on how to adjust your email settings.